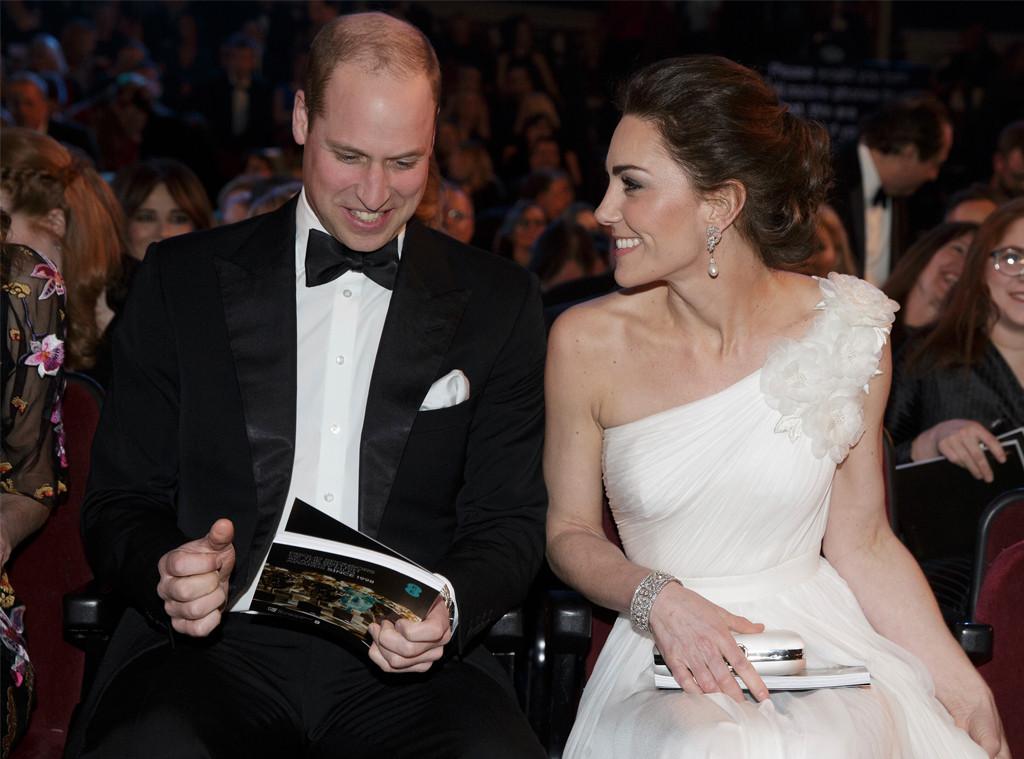 Tim Ireland - WPA Pool/Getty Images
Prince William and Kate Middleton weren't always the picture of royal propriety.
Sure, now they're ye olde married couple—celebrating their eighth wedding anniversary Monday, in fact—who are expected to be elegant, magnanimous and practically perfect in every way as the future king and queen of the United Kingdom and the Commonwealth. They have three children, all of whose names they had to inform Queen Elizabeth II of before they could be announced to the public. Kate can almost never take her coat off and probably sleeps in a hat. William, who used to get less grief from the press expressly because he was the future king, while Prince Harry was painted as a right hellion, now gets publicly shamed if he goes skiing on the wrong day.
But not all that long ago, Kate was the college lass catching a 19-year-old William's eye when she flashed her undies in a see-through black lace dress at a student fashion show.
"Kate's hot!" was William's storied reaction, whispered to his best friend Fergus Boyd.
Kate was the daughter of a couple of commoner millionaires, Carole and Michael Middleton, whose fortune came from the online party-planning business, Party Pieces, that they started in 1987. She had two younger siblings, sister Pippa and brother James, and the family lived in the Berkshire village of Bucklebury.
She was an athlete, like William. A worldly art appreciator, like William. And, starting their second year at University of St. Andrews, they were both residents of the same flat on one of the nicest streets in the neighborhood, which they shared with Fergus Boyd and another friend, Olivia Bleasdale.
But they were just a few mates rooming together, as far as the official word went at the time.
William's angelic face, big blue eyes and thick head of sandy-colored hair launched "Willsmania!" all over the U.K. when he was barely 14. His mother invited supermodels Naomi Campbell, Cindy Crawford and Christy Turlington to Kensington Palace to meet him, as a surprise, because he had their posters on his wall.
By the time he went to college, he hadn't had any long-term girlfriends, but he was rarely alone. He usually operated in groups that included young ladies, such as when he entertained five aboard a yacht cruising the Greek islands when he was 17. (However, one was his cousin, another his future stepsister, and dad Prince Charles and future stepmother Camilla Parker-Bowles were also aboard.)
UK Press via Getty Images
Pals included Holly Branson, daughter of billionaire business mogul Richard Branson, and Violet von Westenholz, who down the road would set Harry up on a date with Meghan Markle. One of the lucky yacht passengers, Emilia d'Elanger, was also his guest at a royal shooting party, but Emilia was also spotted watching polo with Harry. 
All just mates...mainly.
The summer after finishing at Eton he's said to have gotten close to childhood friend Rose Farquhar. 
"William and Rose had a summer romance and she still refers to him as her first true love," a friend from their "Glosse Posse"—the fellow privileged young people who constituted William and Harry's inner circle from time spent at their dad's estate, Highgrove, in Gloucestershire—recalled to Katie Nicholl for her 2011 book The Making of a Royal Romance. "It was a long, hot summer and William spent a lot of time at Highgrove and Rose was always around...That summer they realized that they both actually rather liked each other and it was William who made the first move.
"It was a very sweet and innocent love affair and Rose still laughs about the time they got caught by a farmer in a field. They are still good friends and speak all the time."
Ian Jones/St. James Palace/via Getty Images
"I like to keep my private life private," an 18-year-old William said on the occasion of his milestone birthday in June 2000; he didn't sit down for a formal interview but agreed to answer questions from a select group of media.
Asked how he did manage to have a private life amid all the attention he got, particularly from young ladies, he offered, "In my own way. Trying to explain might be counterproductive."
William took off for Santiago, Chile, where he chose to spend part of his gap year, on Oct.1, 2000; Kate, too, took a gap year to travel, and also touched down in Chile at one point.
Will and Kate met in the dorm at St. Andrews during their first year. Kate had been crowned the prettiest girl in their residence hall. William eventually invited her to join his regular breakfast table and they became fast friends, bonding over their shared interests in sports and ski trips and art history. They went for morning swims and took strolls through town, and Kate got along with William's pack of friends. She was an obliging ear when he struggled with art history and decided to switch his concentration to geography.
But still...just mates.
The prince, who was rather interested in acting, started dating a creative writing student named Carly Massy-Birch, whom he met in drama club.
"She was quite a catch and every girl at St. Andrews was envious of her because she was with William," a friend of Carly's told Nicholl. Their relationship apparently ended when Carly told William to choose between her and—no, not his close pal Kate, but Arabella Musgrave, another girl he'd known since childhood whom he had run into at a party in the summer of 2001, before starting university, only to find out that she'd grown up gorgeous. 
Prince Charles figured that William's youthful dalliances would fizzle out on their own, so he had instructed his son's protection detail to let Will for the most part do as he pleased. Arabella's father, however, told the kids to quit it with the PDA when he spotted them canoodling at a polo match.
They mutually agreed to break off their relationship when William left for St. Andrews, but he was rather homesick for awhile.
Chris Jackson/Getty Images
But, keeping in line with his pattern of having friends and then all of a sudden realizing one day that they had grown into swans, it was the fashion show, in March 2002, that made William see Kate as more than just a friend.
Kate had been dating fourth-year student Rupert Finch, but Will swooped right in at the after-party.
"It was clear to us that William was smitten with Kate," a friend who witnessed the moment (which included an awkward attempt at a kiss that visibly startled Kate) recalled to Nicholl. "He actually told her that she was a knockout that night, which caused her to blush."
But Kate, not wanting to buckle just because the prince was all of a sudden interested, "played it cool," the friend added. "She didn't want to give off the wrong impression or make it too easy for Will."
She also didn't immediately break it off with Finch, but by the end of their first year at St. Andrews, Kate and William were obviously into each other. And then they decided to live together—with other people, but still an unprecedented arrangement for a member of the royal family. 
Lest anyone think otherwise, having a bunch of girlfriends, or dating lots of girls casually, was perfectly royal. Prince Charles had a parade of women in his life, including Camilla Parker-Bowles and Lady Sarah Spencer, Princess Diana's sister, before he married Diana in 1981 after a whirlwind courtship. 
The biggest bombshell he had dropped to date was his decision to attend St. Andrews, in Scotland. His father; Charles' brother Prince Edward; and Will's maternal great-grandfather, King George VI had all gone to Cambridge. When the prince's matriculation was confirmed in 2001, applications shot up 44 percent, and eight of 10 students enrolled in his first history of art course were women.
Whatever their differences, Charles and Diana had been in agreement about wanting William and Harry to live full, as close to normal lives as possible. A protection officer always occupied a nearby room when the boys were at school, but William's private co-ed living arrangement during his second year was something new. In fact, William had insisted on being allowed to live off-campus his second year as a term of his return to school after a shaky first semester.
Anwar Hussein Collection/ROTA/WireImage
According to the 2003 biography William, friends were saying Will and Kate were not romantically linked. Just mates. And William himself declared during an interview coinciding with his 21st birthday that year that he was single.
"If I fancy a girl and she fancies me back, which is rare, I ask her out," he explained. "But at the same time I don't want to put them in an awkward situation, because a lot of people don't understand what comes with knowing me, for one—and secondly, if they were my girlfriend, the excitement it would probably cause."
But they were taking their chances.
Per Nicholl, a 2002 game of "I've Never" turned awkward when William, Kate and Carly Massy-Birch—who ended up living across the road from them—all ended up at a dinner party and Carly offered, "I've never dated two people in this room," knowing that Will was by then dating Kate and, if he was being truthful, would have to take a shot—signaling that he had dated two people in the room.
Kate, already not a big fan, was done with Carly after that.
So, the locals knew, but William and Kate were still the Jamie Foxx and Katie Holmes of St. Andrews, never arriving at a party or dinner together or leaving at the same time, let alone hand-in-hand, and not protesting too much if William was photographed with another girl and subsequently ended up linked to her.
Kate's parents waited till June 2003, when the school year was over, to throw her a 21st birthday party, and William certainly didn't seem like just one of the friendly crowd.
Not being in on the secret, however, Kate's dad, Michael Middleton, told a reporter that he didn't think he and his wife would end up with royal in-laws.
However, according to Nicholl, he seemed to be paying special attention at his 21st birthday party later that month at Windsor Castle to Jecca Craig, whom he had met in Kenya while on vacation in 1998.
And it's not as if Kate wasn't there.
But William always insisted he and Jecca were just friends—and she was dating a friend of his. (William attended her wedding in Africa in 2016.)
"There's been a lot of speculation about every single girl I'm with, and it actually does quite irritate me after awhile, more so because it's a complete pain for the girls," he said in a rare refutation of a story about his private life after one report had him and Jecca pledging their love to each other in a mock ceremony.
But as Kate and William began year three at St. Andrews in September 2003, they were less cautious about being a couple out in the open. They lessened their roommate count to one (not including security), moving into a four-bedroom cottage on the grounds of Balgrove House with their friend Oli Baker.
ELIOT PRESS/BAUER-GRIFFIN.COM
The cat was forever let out of the bag when Will was photographed with his arm around Kate atop a mountain in the Swiss village of Klosters, the royal family's favorite skiing spot, and The Sun was all too happy to share the news that Prince William had a girlfriend.
The palace was pretty ticked off, as the media had been observing a light-touch approach to covering William and Harry while they were in school, but the tabloid had the scoop of the year.
After that, the press were all over Kate, who comported herself admirably amid the excitement that, as predicted, William dating someone did indeed cause. Moreover, her family didn't talk to the press, and William loved spending cozy weekends at the Middleton homestead.
Kate, in turn, enjoyed spending time at all of the various family homesteads William brought her to, where on any given weekend there could be a hunting party or other event at Highgrove, Sandringham or Balmoral. 
The queen, in fact, had given William a key to Tam-na-Ghar, a cottage at Balmoral, to unwind on weekends, and it became a regular getaway spot for him and Kate, sometimes alone, sometimes with a group that at times included Kate's brother and sister.
But when their third year at St. Andrews ended, in 2004, William planned a sailing trip to the Greece that did not include Kate—but for which his good pal Guy Pelly had arranged an all-female crew. 
Pelly is now one of Prince Louis' godfathers, but at the time Kate didn't really trust him.
Not convinced that William was ever going to commit fully, and with the names of all sorts of female-socialite friends of William's running through her head, Kate went home to her family for the summer. She spent two weeks in France, where Fergus Boyd had invited a group of college friends to his family's place in Dordogne—and one night, fueled by wine, she admitted how much she missed William.
Otherwise, she tried to keep her feelings pretty bottled up.
After his solo summer, William seemed to re-commit by October as their fourth year at St. Andrews began. Kate was invited to Prince Charles' 56th birthday party that November, and was invited to Klosters for the family ski trip in March 2005.
But during the school year Kate also found out that William had gone to visit Isabella Anstruther-Gough-Calthorpe, the sister of one of his polo buddies, during the summer, and she told him not to contact her anymore.
By May, with the end of university looming, they were tentatively back together. They graduated on June 23, 2005.
The couple were anxious thinking about their no longer built-in living arrangement, and though William knew he'd be joining the military the following year, as is customary for the men in his family, and Kate wasn't yet convinced that he was really in it for the long haul.
"I'm only 22 for God's sake," William had told a reporter that April a few days before his father married Camilla, so he was asked if marriage was on his mind as well. "I'm too young to marry at my age. I don't want to get married till I'm at least 28, or maybe 30.
Of course, it would have been the scandal of the year if Kate had talked to a reporter, so she pressed on, unable to have a public reaction—positive or negative—to her boyfriend's remarks.
But they had a lovely summer, traveling to Kenya together to visit Jecca Craig and steal away to a $1,500-a-night cottage at the Maasai Lodge in Nairobi. Kate joined William's family at Sandringham for their annual Boxing Day shoot.
The couple rang in 2006 together at Sandringham, then William took Kate on a private ski holiday to Klosters, minus the photographers who snapped away at the now-obvious couple. They even kissed on the mountain this time.
And with that, the engagement countdown began. For royal watchers and bookmakers, at least.
Kate moved into her own flat in London and eventually got a job as an accessories buyer for British fashion retailer Jigsaw, while William got ready for the Royal Military Academy at Sandhurst, where he would train to be a helicopter pilot.
Prince Harry had started dating Chelsy Davy and was about to graduate from the academy, having decided to go right into military training after Eton. Kate skipped the celebratory ball but joined him and Chelsy and William at a club the next night, where they ran up a $3,000 bar tab that turned into "on the house" for the VIP guests.
William and Kate spent spring break of 2007 in Mustique and, that summer, she and her parents had front-row seats at her boyfriend's passing-out ceremony at Sandhurst. Charles and Camilla were there, as was Will's granny, the queen.
That summer, they seemed to be in the engagement home stretch. Kate started studying what others had done in her place—her place being, as far as she knew, on the precipice of joining the royal family—and fielded tips on how to handle the increased scrutiny.
The Clarence House press team now looked after Kate, too, and William's security team was her team whenever they were together. 
But at the end of 2006, William canceled on spending New Year's with Kate's family, who had booked a cottage in the Scottish town of Alyth for the occasion.
There had been no Christmas at Sandringham, either, though Kate had been invited to lunch—which was quite a big deal, as they weren't married, or even engaged, yet. But Kate was going to be out of town with her parents, thinking William would be joining them a week later. 
Then William had to leave for his first posting, with the Blues and Royals of the British Army's Household Cavalry, in Dorset on Jan. 8, 2007—the day before Kate's 25th birthday.
It was also right around that time that a piece in The Spectator heralded Kate as "THE NEXT PEOPLE'S PRINCESS." The paparazzi wouldn't leave her alone for a second after that.
"Miss Middleton should, like any other private individual, be able to go about her everyday business without this kind of intrusion," read a statement from the palace, sent at William's behest. "The situation is proving unbearable for all those concerned."
Behind the scenes, William was asking his father and the queen for advice about his future; both advised him not to rush into anything.
Meanwhile, the paparazzi were sorely disappointed if they were hoping to catch William and Kate together. Visits had been few and far between once he went to Dorset, and then he was photographed enjoying an evening with friends, including other girls, at Boujis, an exclusive nightclub in London they used to frequent.
As in, he was in town, and not spending the evening with his supposedly serious girlfriend. Then he was photographed with his arm around one girl and dancing with another at a club closer to his posting.
Kirsty Wigglesworth/PA Wire
While he obviously was fiercely protective of Kate, William was also staring forever in the face. And the prince blinked.
Guessing that four years had been enough of a courtship, the papers were predicting that an engagement was forthcoming.
Instead, William broke up with Kate.
On March 31, they went on a double date with pals Hugh and Rose van Cutsem. On April 3, Kate was single again as she left for a trip to Ireland.
She was, understandably, devastated—but just as she didn't let William think he could swoop in out of nowhere and make out with her after the student fashion show in 2002, she wasn't going to let him (or, by then, all of Britain) to think she was pining away for the prince.
Kate signed up for a charity rowing challenge with an all-girl crew and started training hard. "Kate was very down and I think the training became her therapy," Emma Sayle, the group's leader, recalled to Marcia Moody for her 2018 book Kate: A Biography. "Kate had always put William first and she said this was a chance to do something for herself."
She was even spotted one night being escorted home from a party by Willem Marx, an old beau from her days at Marlborough who had gone to Oxford while she chose St. Andrews.
Pippa moved in with her in London and they maintained a packed social schedule. Needless to say, Kate was never photographed looking any less than her best. She ended up on the cover of Hello!, no longer press-shy.
William, who despite more raucous nights out in the interim, was starting to regret his decision to break up, and in June 2007 he invited Kate to a costume party at his barracks.
He was again pressed into action by an impressive outfit: Kate was dressed as a naughty nurse.
They quickly reconciled.
On June 24, 2007, Katie Nicholl reported for the Mail on Sunday that Kate Middleton and Prince William were indeed officially back together. She rocked out two rows behind him in the royal box on July 1 at the Concert for Diana at Wembley Stadium.
Mario Testino/Clarence House
Incidentally, no matter how unsure he was of what to do as his college graduation loomed, 22-year-old William had correctly guessed his future marrying age.
"I think at the time I wasn't very happy about it," Kate would calmly reflect on their two-month breakup in her 2010 engagement interview after a 28-year-old William proposed and slipped the sapphire and diamond ring that once belonged to Princess Diana on her finger, "but actually it made me a stronger person.
"You find out things about yourself that maybe you hadn't realized. I think you can get quite consumed by a relationship when you're younger. I really valued that time for me as well, although I didn't think it at the time."
Added William, "We were both very young. We were both finding ourselves and being different characters. It was very much trying to find our own way and we were growing up so it was just a bit of space and it worked out for the better."
He can consider himself lucky that it did.