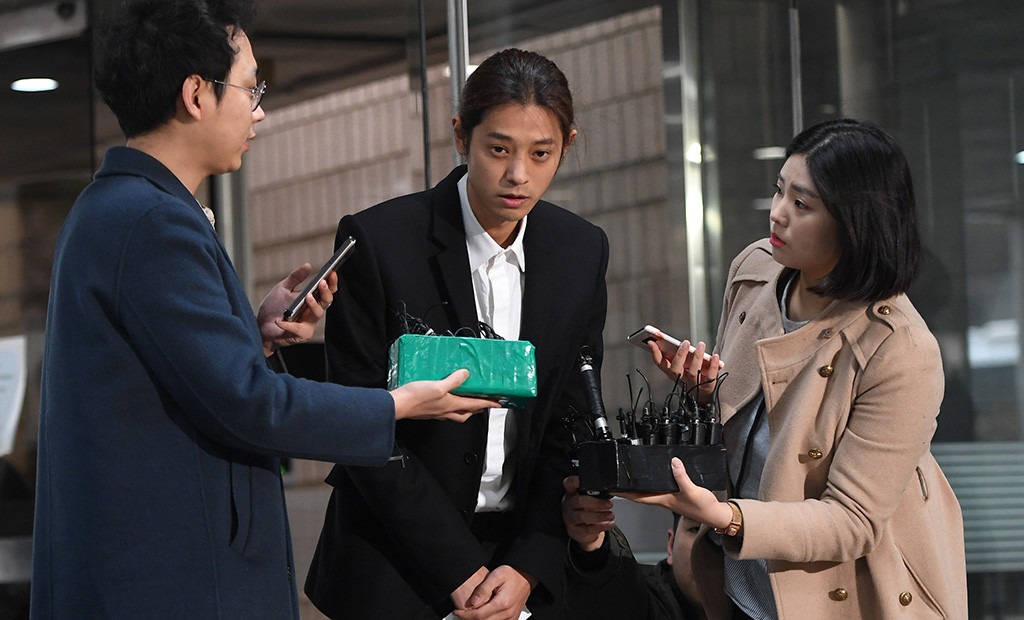 JUNG YEON-JE/AFP/Getty Images
South Korean singer-songwriter Jung Joon-Young is currently under major police investigations for the filming and distributing of illegal and lewd footage of women on his Kakao Talk group chat. However, it is revealed that there are footage shared that may have the members of the chat charged with another heinous crime, rape.
On 11 April, lawyer Bang Jung-Hyun went on South Korean media outlet JTBC's Lee Kyu-Yeon's Spotlight discussing the shocking contents of the infamous group chat and the possible legal repercussions that members of the chat may be dealt. 
Bang is the lawyer who reported Jung's chatroom to the Anti-Corruption and Civil Rights Commission for investigation and prosecution. In an interview with reporter Lee Kyu-Yeon, Bang claimed that beyond the distribution of illicit photos and videos within the chat, the footage themselves need to be looked into more deeply as they may be used as evidence of rape. 
"First of all, there are photos and videos of unconscious women. There are videos of sexual activity being performed on women who are laying down as if they were sleeping. There were about 10 videos that could be presumed to be forced sexual assault," Bang said in the interview. 
He went on to say that he and his legal team allegedly contacted the victims in the footage found in Jung's group chat. "The victims were shocked to see the contents of the chatroom. They didn't remember anything at all. They knew it was them [in the video] but couldn't remember having sex. Some of the victims even saw pictures of someone taking their clothes off, but couldn't remember that either," Bang explained. 
These women reportedly did not even know that they were victims of rape, making it a specific case of sexual assault. Bang brought up how the clubs in question like Burning Sun and Monkey Museum were being investigated for alleged sales and distribution of date rape drugs. 
"The suspicions of sexual assault and rape only came up due to the date rape drug. Several of the victims barely drank any alcohol but talked like they had completely lost their minds," Bang told the JTBC reporter. 
The lawyer explained how the perpetrators in the videos could be charged with aggravated rape (특수강간) which requires two or more people conspiring to commit the crime. This criminal charge, if found guilty, has a severe punishment of up to life imprisonment. 
Bang recounted one of the alleged videos in Jung's chatroom, "A member of the chatroom attempted to sexually assault a woman, but failed, so instead he tried again on a woman who was already asleep. It seems like there are 4 total perpetrators, but it could be up to 6, including those who were at the scene of the rape but did not participate.
One of them is a celebrity. There are several issues here, but there appears to be the issue of aggravated rape."
Bang shared insights on the hierarchy of members within the group chat. He said that from the conversations, he can deduce that Seungri ranks second highest following Yoo In-Suk of Yuri Holdings. Seungri reportedly regularly requests members in the group chat to leave the chat so that no incriminating data is left on their phones. 
Jung was the only member who did not leave the chat. "The conversations were not just in one chatroom. Jung Joon Young stayed in all the chatrooms by himself (despite Seungri's orders). And that was the beginning to this case being revealed," Bang stated, suggesting that Jung was the reason everyone in the chatroom got busted. 
The lawyer ended the interview on his final thoughts on the situation and the shocking contents of the group chat that has led to criminal investigations being carried out on celebrities, CEOs and police officers. 
"It's clear that the chatroom members did not see the women as humans. They saw them as a tool, a tool to satisfy their sexual desires. They had this idea of 'Well, they aren't humans anyway, I can just use them to fulfil my desires whenever I need to and then throw them away.' There was actually the phrase 'I'm going to throw [her] away' used.
One person said they would get investigated [regarding this case] and they did. That person is a celebrity." 
Bang refused to name the said celebrity as he felt it was not his place to do so. However he has helped victims file a police complaint against members of the group chat that have allegedly assaulted them on charges of aggravated rape. 
The investigations are still ongoing and the police has yet to comment on the reported rape charges yet.