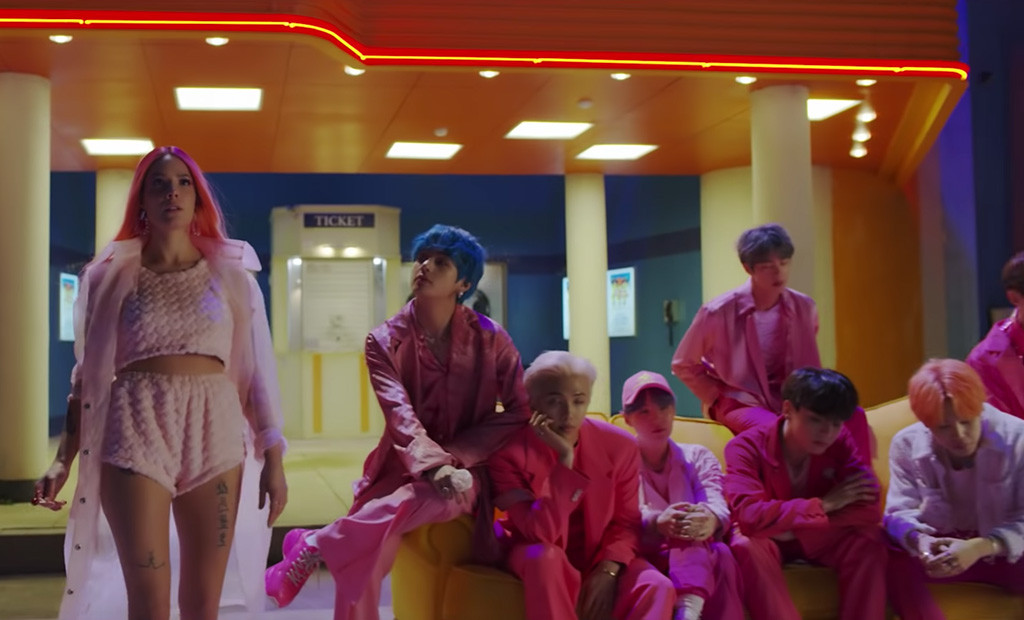 Youtube
Last night, K-pop sensation BTS, also known as Bangtan Boys, released a teaser on their official Youtube channel. The teaser featured popular 24-year-old American singer, Halsey, this time with long orange ombre locks and a cute pink outfit. Turns out, she too is a huge fan of the seven-member boy group and was delighted to collaborate with them. 
BTS is set to make a comeback on 12 April this year with their album titled Map of the Soul: Persona. They are also planning to perform live on Saturday Night Live the day after, marking their first comeback performance since their last album release. With countdown clocks set up and ARMYs gearing up for the comeback of their favourite K-pop idol group, the hype became deafening after the teaser "Boy With Luv" was dropped. 
Overnight, the teaser has racked up over 10 million views and counting. Watch the teaser below: 
The concept is still shrouded in mystery as we see Halsey seated in a cinema ticketing booth before walking out, past the BTS boys who happened to be sitting on a couch outside the movie theatre. With Halsey's signature pop style, fans are excited to hear her collaboration with BTS' version of K-pop and rap. 
The concept seems vibrant and colourful, in line with most of BTS' music videos. Hence, the teaser gave fans a taste of the visual spectacle they can expect in the music video, once it drops on 12 April. The title harks back to BTS' 2014 with the same name and featured a sample from the band's song "Intro: Skool Luv Affair" from the same year. 
Perhaps it's a sign that BTS is going back to their roots and reflecting on their past upon achieving the astronomical success that they have today. Nostalgia aside, we know that the Bangtan Boys always deliver a feast for the eyes and ears when it comes to their music videos.
ARMYs, get ready to be blown away!