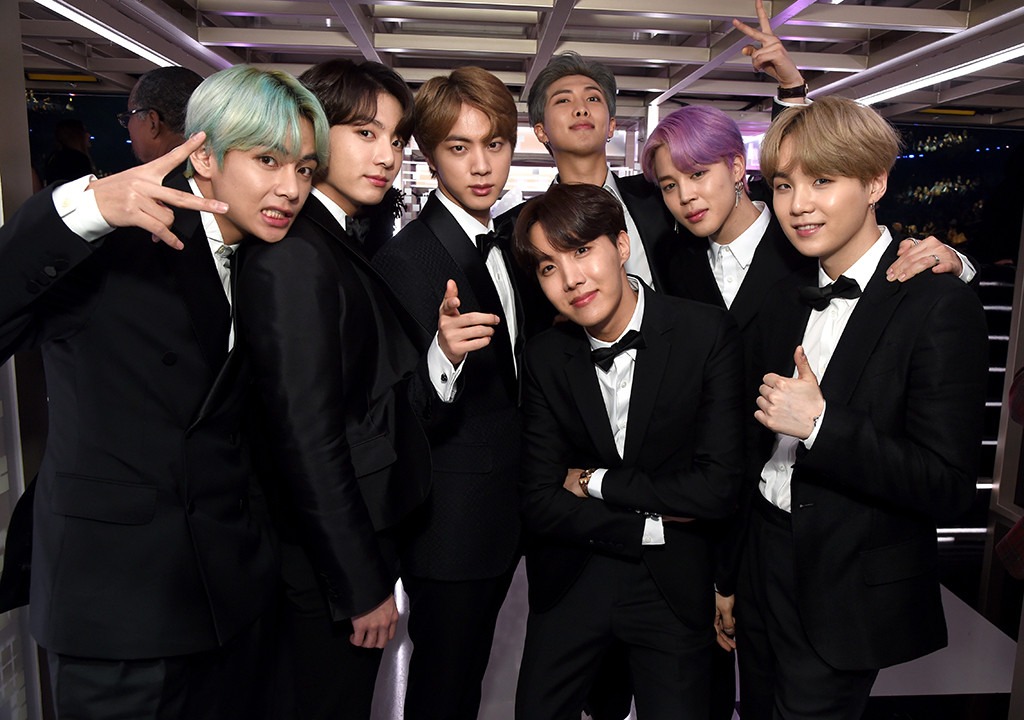 Michael Kovac/Getty Images for The Recording Academy
You'll know them by their pastel-coloured hair, if not by their ridiculously good looks or catchy song lyrics — there's no mistaking that BTS has become one of the biggest forces to shape today's music scene. With multiple chart-breaking records and global accolades under their belt, including presenting at the Grammys earlier this year and having the distinction of being the first ever K-pop group to speak at the United Nations, it's no wonder that commentators have taken to likening them to another famous boy band: The Beatles.
"Sometimes it feels really embarrassing when someone calls us a 21st-century Beatles or something like that," admits BTS leader RM in the South Korean boy band's latest interview with Entertainment Weekly. "But if they want to call us a boy band, then we're a boy band. If they want to call us a boy group, we're a boy group. If they want to call us K-pop, then we're cool with K-pop."
Sitting down with the entertainment magazine for their latest cover, the "IDOL" singers talked about their music and inspiration, early musical idols and staying true to themselves.
Of their frank messages about struggling with issues and, ultimately, learning to be okay with yourself in their music, Suga said that the boy band tries to get "a little more raw, a little more open" while RM felt that "it's an endless dilemma for every artist, how much we should be frank and honest. But we try to reveal ourselves as much as we can."
"With seven members we have seven different tastes, of course," RM added. "So when it comes to songwriting, it's like a big competition."
This disparate musical taste is reflected when asked about their earliest pop memories: J-Hope counts The Pussycat Dolls' "Stickwitu" as his first inkling of pop music; RM said Eminem's "Lose Yourself" as his; Jungkook recounts Richard Marx's "Now and Forever" as his; and Suga recalls John Lennon's "Imagine" to be his first memory.
But despite such a wide variation in musical taste, the close-knit group is aligned when it comes to their goals for the future — and that includes staying true to themselves despite their ambitious plans.
"You know, Latin pop has its own Grammys in America, and it's quite different," said RM in the interview. "I don't want to compare, but I think it's even harder as an Asian group. A Hot 100 and a Grammy nomination, these are our goals. But they're just goals — we don't want to change our identity or our genuineness to get the number one. Like if we sing suddenly in full English, and change all these other things, then that's not BTS. We'll do everything, we'll try. But if we couldn't get number one or number five, that's okay."