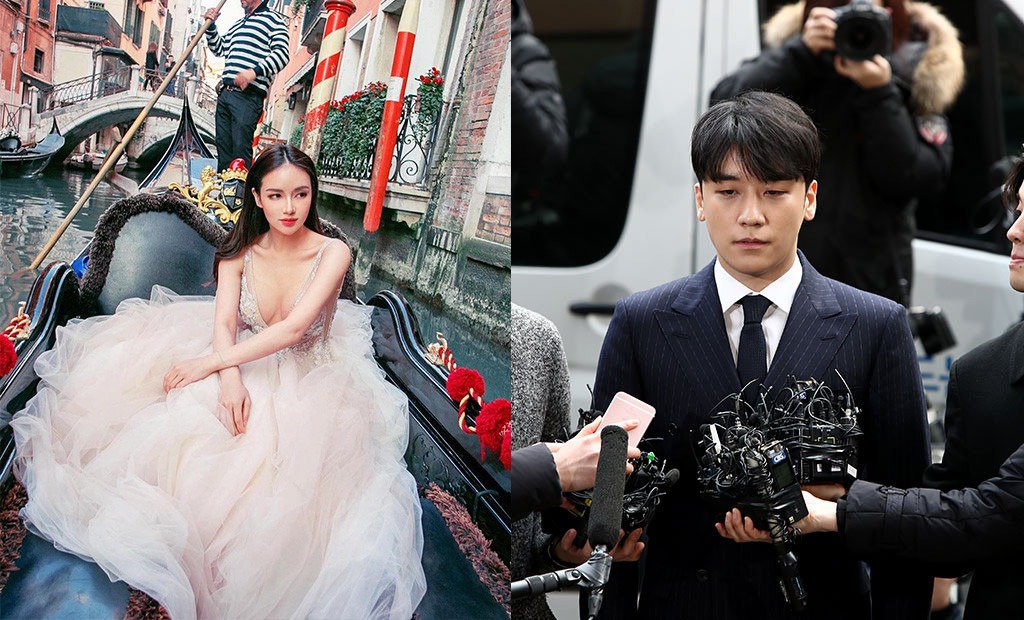 Instagram/Getty Images
Update: After Singaporean socialite, Kim Lim's statement was made, Seungri has finally responded. He has denied that Kim Lim had any involvement in any part of the Burning Sun scandal. 
On 26 March, SBS News reported that Seungri has undergone another round of interrogation by the police. This would make it his fifth interrogation to date. The session lasted for three hours. He was questioned on matters regarding his alleged acquiring of prostitutes for overseas clients. It has been reported that there is speculation about the Triad, a transnational criminal organization being involved as well. 
Seungri told police, "Kim Lim and the triad have no relation to each other."
Original, 25 March: Breaking her silence on the Seungri scandal, Singaporean socialite Kim Lim has issued a statement after being named by the former Big Bang member in his extensive interview with Korea's Chosun Ilbo.
Lim, who counts over 252,000 followers on Instagram, took to her Instagram Stories to address the issue.
She posted the following: 
"My name has been embroiled in the K-pop scandal that's unfolding right now in South Korea.
Some time before the news broke, I received a phone call from Seungri. It turns out there has been a leaked conversation of him allegedly soliciting prostitutes for his investors. He asked me a few weird questions and hung up. I don't know why he called me and how I was involved in this saga at all. Needless to say, after the call I was left completely confused.
When this news broke out, Seungri said the chat is entirely fabricated and that it's fake news. However the police later says it isn't.
Today, a media statement was released by Seungri's lawyer telling his side of the story. The article suggested that he arranged for me to party together with other girls, which he claims are not prostitutes.
To clarify, on December 9, 2015, I was in Korea with my friends from Singapore. We went to Club Arena for a night out, and Seungri arranged for a VIP table for our group. We partied by ourselves and left after.
In no way were there other patrons or staff who accompanied our group. I certainly never asked for any "girls" to party with me. This can be vouched for by the four people who were part of our group that night.
I am embroiled in this matter simply because I happened to be there that night. I was simply at the wrong place and the wrong time.
Just to be clear, I had no inkling or idea of the alleged criminal activities going on in Burning Sun, Seungri's businesses before this saga broke out. I'm not involved in any way whatsoever. Any media outlets which persist in reporting so will be hearing from my legal counsel."
The K-pop star's scandals have turned into a web that have entangled many people, both in and out of the entertainment industry. Lim is the latest whose name has been dragged into the controversy. 
Lim is the daughter of Peter Lim, a Singaporean billionaire who owns Spanish football club, Valencia FC. Both Lim and her father were previously mentioned before by Seungri in the Korean variety programme, I Live Alone. In an episode that featured Taeyang, Daesung and Seungri, they started talking about Seungri's business ventures over dinner. In one instance, he mentioned knowing a "man from Singapore" who controls Cristiano Ronaldo's schedule in Asia.
Seungri went on to say that after meeting the man's acquaintance, he is now in charge of Cristiano's schedule if he ever came to South Korea. 
This man he mentioned was rumoured to be Peter Lim, Lim's father. 
On 22 March, Seungri broke his silence and addressed all the scandals and allegations that he has been embroiled in. This was his first official, in-depth interview after being interrogated by the police as a suspect. In the interview, he addressed the alleged prostitution accusations, which SBS reported that he had hired female escorts to entertain a foreign investor at Club ARENA. 
In that part of the interview, Seungri clarified that the women that he had allegedly requested for was for Kim Lim. "In the Club Arena case, it's regarding a woman from Singapore called Kimmy. She's the daughter of a famous soccer club owner. I've received a lot of help from her, so I just wanted to look out for her," Seungri said. This was what his lawyer had claimed as well when asked about prostitution allegations.
This prompted Lim to make her statement on Instagram to clarify her involvement.