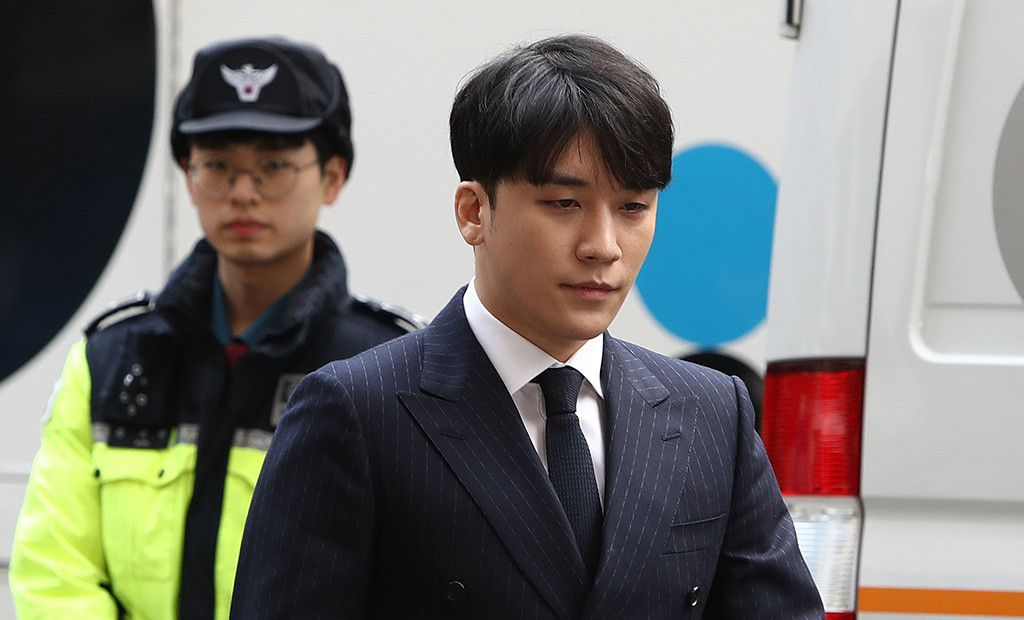 Chung Sung-Jun/Getty Images
The dust has yet to settle after the whirlwind of scandals that engulfed Seungri, ex-member of popular K-pop boy band, Big Bang. What started at Burning Sun, a club that he was once the face of, had turned into multiple criminal investigations that had CEOs and even high-ranking police officers being questioned.
As Seungri continues to cooperate with the police on the investigation into his prostitution allegations, he has been very careful to not make any statements without his lawyers present. In both instances where he went to the police station, there were many reporters lined up, waiting to question Seungri. However, he has been adamant about keeping his mouth shut. 
Until now. 
In an exclusive interview with one of South Korea's major newspapers, the Chosun Ilbo, Seungri has finally broken his silence and answered the questions that many people, including his fans have been dying to know. The in-depth interview was published on 22 March, covering the Burning Sun scandal, the infamous Kakao Talk group chat and his connections to Yuri Holdings. 
Korean celebrity media portal, Koreaboo, translated the interview, and these were the key takeaways from the whole interview — Seungri's longest one since the scandal broke. 
Before addressing the questions, Seungri started the interview with a statement to implore the public to believe him, despite him knowing that he has made many mistakes. He began with, "I am sorry and ashamed of myself. It was wrong of me to be involved in inappropriate businesses as a public figure.
Right now, no matter what I say, no one will believe me. Even though I was cleared of charges by the police investigation, people swear by the idea that I bribed the police to say that. I am not in a position where I can strongly state my opinion, but I want to explain because the news about Burning Sun are becoming much different than the facts that I know of."
The interview began with the Pandora's Box that is the Burning Sun scandal. Seungri stated his reasons as to why, in his opinion, he is not and has never been the true owner of the club. He talked about the current CEO, Lee Moon-Ho and how Seungri decided to help him promote the club as a friend. Seungri revealed that the breakdown of the shares in Burning Sun Club was as follows,42% share by the owners of Le Méridien Seoul, 8% share by Lee Sung Hyun, who is CEO of Le Méridien Seoul, 20 % share by Yuri Holdings, 20% share by a Taiwanese investor known as Madam Lin, and 10% by Lee Moon Ho.
Seungri reportedly attributed the mistaken public perception was due to his episodes on the Korean variety programme, I Live Alone. In one of the episodes, Seungri stated that he was very involved in every aspect of the business, even going so far as showing him preparing for the club's opening, adjusting lights and so on. "It's true that it was promoted with my name attached to it, and I think it was also misunderstood because I said it was something I ran on broadcast, " he said. 
When asked why he would let himself be the face of the club. Seungri responded, "I liked to DJ and enjoyed visiting the club, so I thought Lee Moon Ho's offer of helping out Burning Sun was not bad. Even though I thought there could be a problem operating a club in a hotel, I still did participate in it."
Chung Sung-Jun/Getty Images
The Chosun Ilbo reporter probed deeper, asking Seungri how he started working with Yoo In-Suk, ex-CEO of Yuri Holdings and Lee Moon-Ho, owner of Burning Sun club. Seungri stated that he had a 40% share in Yuri Holdings and was in charge of the entertainment and catering businesses under that company. He then said that Yoo initially was against the idea of investing in a club, however, Seungri was adamant on going into the club business scene. Seungri then apologized to Yoo for getting him involved in this matter. 
As for his connections with Lee, Seungri said that Lee was the managing director of PULSE, the team that created Club ARENA. He met him there and believed in Lee, as he seemed to have the support of many people including his staff members. Seungri admitted that he was the one who made the suggestion of opening a club together. As he was busy managing Aori Ramen at that time, Seungri said that it was tough for him to run Burning Sun as well.
"The two CEOs, Lee Sung Hyun and Lee Moon Ho, were responsible for all of the internal management, from accounting to employees. I never attended a meeting regarding Burning Sun, never received an employee list, or received a direct payment from them. I was really just the face. All I did was lend my name to Burning Sun, and invest 10 million won through Yuri Holdings," said Seungri in the interview. 
The interview went on to Burning Sun's involvement with the police, alleged bribery involved and Lee's reported drug usage, Seungri had this to say on that matter,
"I have never been told in person about the incidents that happened at Burning Sun. I was belatedly informed through information that was relayed through my acquaintances. The case regarding minors being allowed into the club happened in July 2018. In November, an acquaintance heard a story about how Lee Moon Ho didn't get money from the police broker, Mr. Kang, so he tried to tie up Mr. Kang, Burning Sun, and me. I asked Lee Moon Ho about this, and he just said there was no problem.
When I heard that Lee Moon Ho was using drugs, I asked him several times about it. He said he didn't do them every time I asked. I was surprised to see his tests turn up positive. All I did was go to Burning Club once a week to DJ. I never ran on-site operations or watched closely on what the customers did, so I had no reason to know what the management was doing." Seungri then went on to explain that he had privately quit his position as co-owner of the Burning Sun club in anticipation of his upcoming mandatory military service. He reportedly quit before Mr Kim's assault case came to light. 
When Seungri asked Lee about the assault incident, that was the spark to Burning Sun's combustion, Lee allegedly told him that "both parties were in the wrong". Seungri claimed that, "Even I was confused about the truth. I am also a victim as a shareholder in Burning Sun, I did not know anything about how the business was run [regarding the tax evasion accusations]."
Next on the list was his famously quoted "lavish birthday party" in the Philippines, back in December 2017. There were rumours that he had prostitutes flown in, and that there were allegedly drug-related activities during the party. While he admits to having flown in his close female friends, he insisted that they are his friends and that he felt sorry that they are currently under suspicions of prostitution. "Honestly, it wasn't anything like that, so I have my regrets. I'm afraid that everything I've done in my life up to now has become a suspicion," Seungri said. 
He went on to reiterate that all his drug tests came out negative. He claimed to have submitted more than 100 hair samples and went for a urine test as well. All of which came out negative. 
With regards to the Kakao Talk group chat that involved Jung Joon Young and its contents, Seungri had this to say, "This was in 2015. Can you remember what kinds of Kakao Talk messages you sent 3 years ago? I really don't remember it. I couldn't believe it. I said this kind of thing? Each conversation had no time the message was sent, or no context before or after the message. I thought it definitely could have been fabricated."
He went on to defend himself by saying that when he allegedly texted "give them the easy girls", he was in Japan performing and in a birthday party at that moment. He clarified that the person he was "sending the girls to" was not a foreign investor but instead was Singaporean heiress, Kim Lim. He said that she had helped them a lot and just wanted to show her a good time in Seoul, even though he was overseas at that time. 
In the Chosun Ilbo interview, Seungri also claimed that he had tried to stop Jung Joon-Young from sharing hidden camera sex videos in the chat. "I told Jung Joon-Young to stop doing things like [taking hidden camera videos], he could get in big trouble. I didn't just say that to Jung Joon-Young, I told everyone in the chatroom. It's just I did not say it in the chatroom itself. The public has been suspecting everything that is in the chatroom, but what about conversations that happened through phone calls? Or conversations that we held in person? The public wouldn't know what was said."
He ended the interview by saying that all he can hope for now is a fair investigation. He implored for the public to wait for the investigation to be completed before making their judgements. "Even if I am cleared of charges, people will call it police collusion, saying I got help from higher-up. I have to live the rest of my life as a man of suspicion. There was clear evidence in the case of Jung Joon-Young, so his crimes were uncovered ...
What I'm trying to say is, not everything I say has to be reported. It's a frustrating situation. My only wish is that the investigations be carried out fairly ... It's scary to see them try and create a whole new frame by involving politicians. There is the truth, and there are lies. I am currently cooperating with investigations. I would be grateful if everyone would remain calm, subdue their anger until the investigation results are revealed, and judge the results without bias."
This interview has been condensed and edited for clarity. For the full interview, click here.