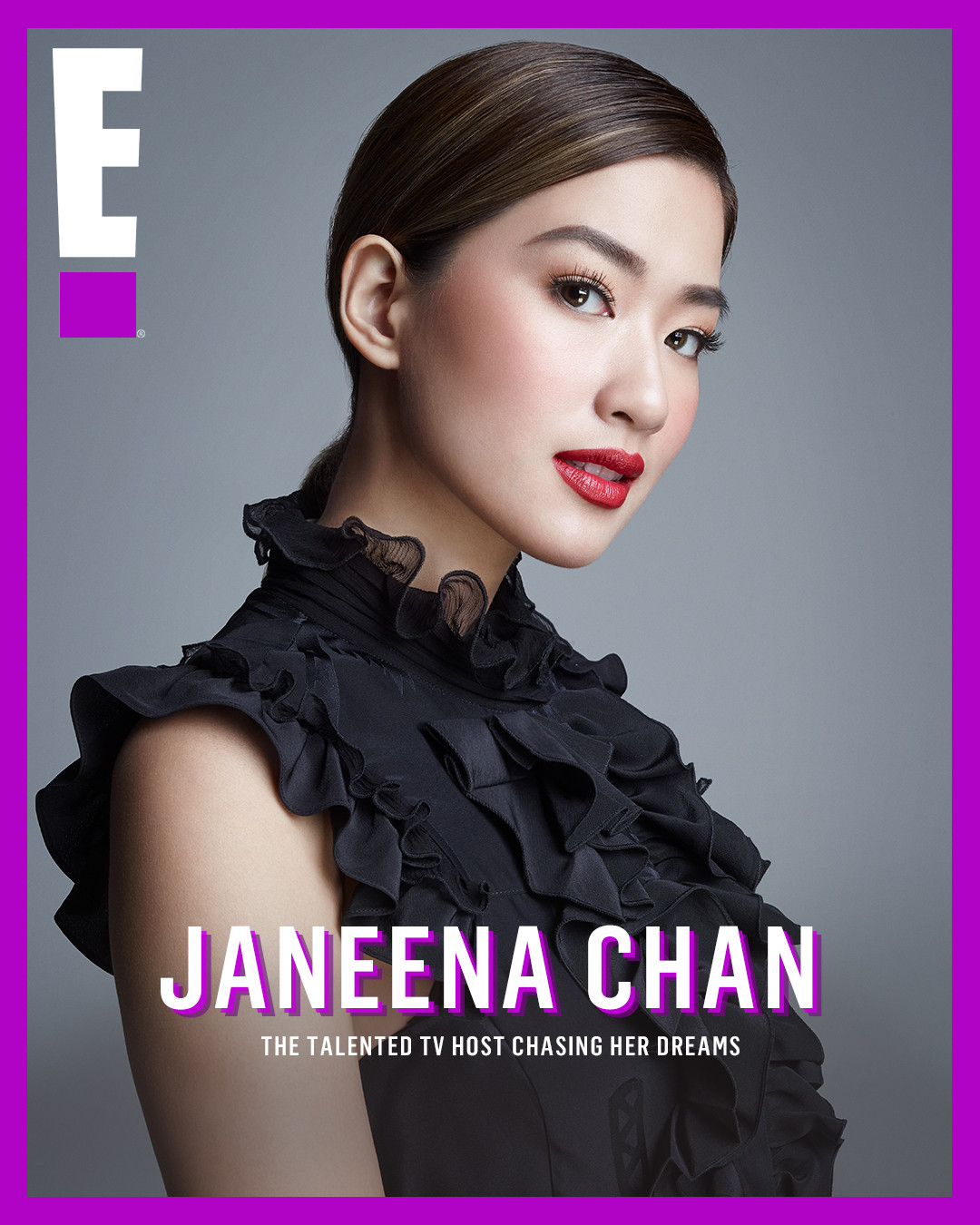 Photographed by Wee Khim
Janeena Chan is no stranger to hard work. Bursting with energy and magnetic enthusiasm, Janeena is a natural in front of the camera and loves to chat about anything under the sun. 
However, don't let her easy-going and bubbly personality fool you. Janeena started pursuing her dreams at the age of seven. She started going for singing competitions and modelling as a kid, before becoming a host for Kid's TV that aired on ABC 5 and RPN 9. Now, she is an influencer, lifestyle blogger and full-fledged television host.
E! Asia sat down with the jet-setting Janeena to talk about public speaking, building confidence and her best travel experiences. 
Related:
Janeena Chan Takes the E!Q in 42 | E! News Asia
You are a natural in front of the camera, do you have any tips on public speaking and confidence?
Oh my gosh, that's like a whole talk. First, you have to keep practising. Sometimes it can be a little cringe-worthy to practise by yourself, but you know what, it will all be worth it because practice does make perfect. Preparation as well, is always key. Whatever field you're in, you always have to come prepared. That's the discipline aspect, I guess. Funny as it may seem, I started out as a kid host at the tender age of 11. There, I trained myself on hosting and being in front of people as the years went by. That was when I realised that this could be a full-on, sustainable career. 
As I moved forward, I got more opportunities such as hosting events, which is completely different from television hosting. My goodness! You have to be energetic and connect with the audience. More than anything, you are responsible for the audience's experience and that can be scary. But it's all about letting your personality shine and having presence of mind. 
After interviewing so many people, was there a moment where you were starstruck?
I always do get starstruck by different people. Just recently I got to attend the Captain Marvel fan meet here, at Marina Bay Sands. I got to meet Gemma Chan. I love her in Crazy Rich Asians and when I saw her in person I was geeking out. She's so pretty and I tried so hard to get her attention. I was yelling her name and I said, "I'm a Chan too! We're sisters!"
Top, Coach 1941. Photographed by Wee Khim
What is your most memorable travel experience?
Europe will always be beautiful. Korea, I love Korea too. But for me, what makes a trip memorable is, this sounds so cheesy but, the people. I love influencer trips the most because I get to meet so many different influencers from different countries. Before, there were not as many travel opportunities. Now, you see so many new faces with every trip and it's like being in a parallel universe. Because they doing exactly what you do but somewhere else. You get to see what apps they are using and share tips and tricks. 
If you could travel anywhere in the world right now, where would it be and why?
I would go to London. Just because, I have never been there and I'm a huge fan of the British Royal Family. I follow Meghan Markle and Kate Middleton. I love reading about them, even when it's just tabloid articles. I always want to know the royal-tea. See what I did there? I would probably get the Princess Tour package, go see the palace and go on the royal tour. 
What is your inflight beauty routine so that you land looking fresh and ready for your hosting gig?
I love that beauty brands now make their products in travel or sample size. It's so easy to bring them everywhere. I love BB cushions, but I would put them on before the flight and touch up when necessary. Then I would also carry-on makeup miniatures to add on before I touch down. I love the brand, Clio for their eyeliners and I carry around this Chanel lip blush which I use on my lips and cheeks to brighten my complexion.
For brows, I use the Benefit Brow Contour Pro because it has all the steps in one. False lashes are also a great hack to look put-together, even when you barely have any makeup on. 
On Nana: Blouse, House of Holland at The Outnet. Pants, Longchamp. Earring, Lauren x Khoo Fine Jewelry. On Fiona: Jumpsuit, Hermes. On Gani: Jacket, Hugo Boss. Earrings, Lauren x Khoo Fine Jewelry. On Janeena: Dress, Tory Burch.
Photographer: Wee Khim
Stylist: Debby Kwong 
Makeup artist: Audrey Wee using YSL Beauty
Hairstylist: Junz Loke using Kevin Murphy
Producer: Cindy Ow
Photography assistant: Alwin Oh
Styling assistant: Tammy Kwong