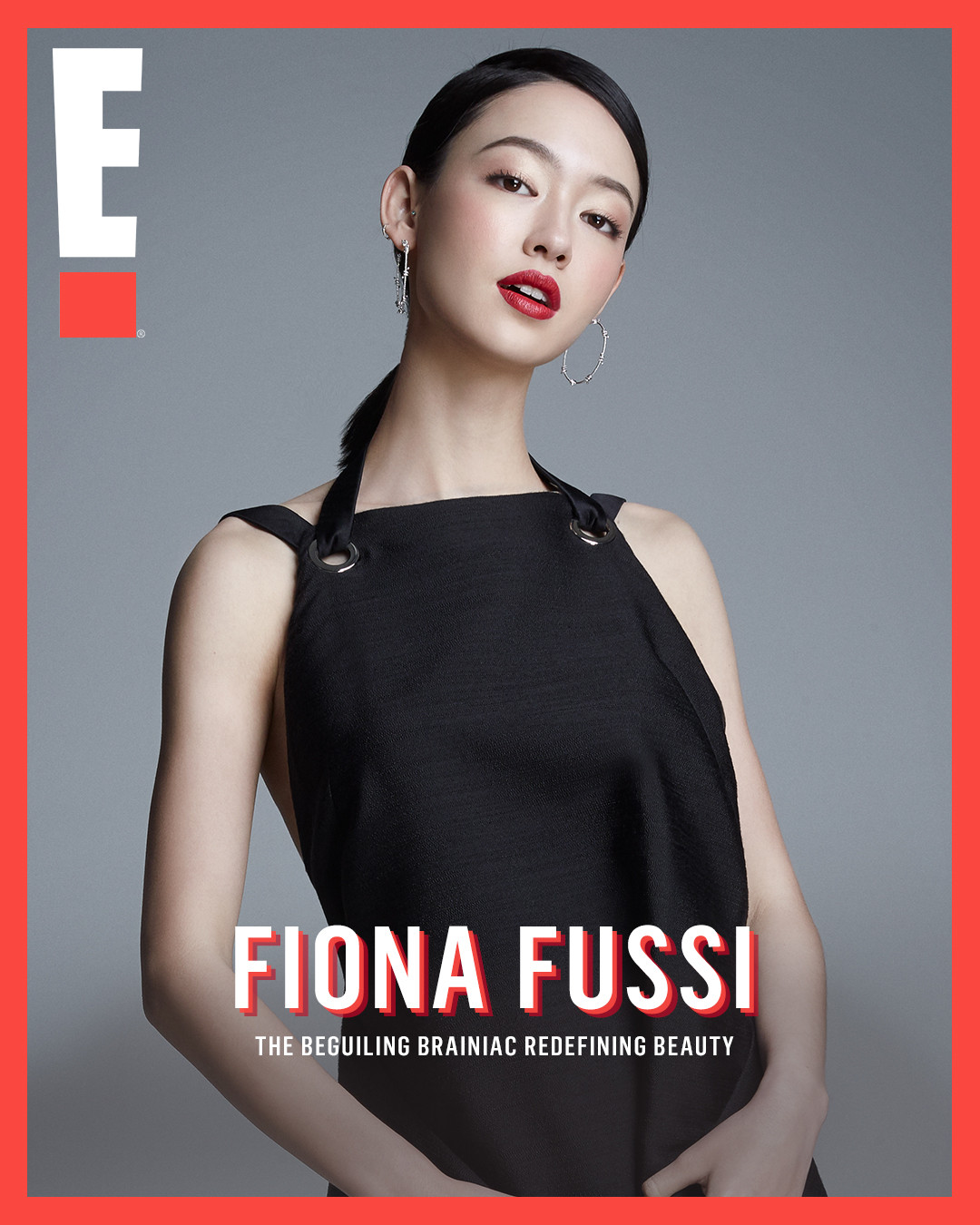 Photographed by Wee Khim
There is nothing Fiona Fussi can't do. Speaking a total of four languages at a near-dizzying native level, she is the radiant Austrian Chinese polyglot, who is based in Singapore, that also sings and wins people over with her dazzling smile, and riotous laughter.
No thanks to her authenticity (read: brilliant sense of humour) and otherworldly good looks, Fiona is no stranger to the sartorial set. The girl is a constant fixture on the covers of countless international fashion glossies around Asia, and is the face of storied Parisian couture house, Chanel's Beauty videos.
And today, we find out that there is even more than meets the eye with Fiona — as she reveals the secrets to her flawless skin.
Related:
Fiona Fussi Takes the E!Q in 42 | E! News Asia
What is the one step in your skincare routine that has made the biggest difference in your skin?
OK, wait. I don't know if this counts as a step, but I think make up removal is very important. Oh my god. I don't know how some people go to bed in their makeup. And the times that I do that, I can literally feel my skin deteriorating.
So you never sleep with your makeup?
I never. Even if I had a crazy night, and I'm *whispers* hella drunk, I still WILL remove it. Even if I don't tone, or moisturise. I will always cleanse my face. *whispers again* Even if I don't brush my teeth, I will cleanse my face!
Well, how many steps are there to your skincare routine then?
Honestly, I am quite a simple gal. I try to keep it minimal so I can keep it consistent. Because if I do too much, I know that I'll get lazy eventually. So I'll always remove my make up, I'll cleanse, I'll usually go for a serum, and skip toning.
Top and pants, Hermes. Earrings, Lauren x Khoo Fine Jewelry. Photographed by Wee Khim
Do you travel with the same skincare kit?
Yes, I do. I actually have one skincare kit just for my travels in my suitcase — ever ready. And another at home. The one I have for my travels is more intensive when it comes to hydration. Anywhere we travel to, outside of Singapore, is going to be dryer, so I focus more on moisture. The creams for example are heavier, richer, or the face masks are a little denser.
How long do you spend on your face? Not taking into consideration, make up application.
Honestly, not long at all. Haha! A quick serum and moisturiser and I'm good to go. In the day, I tend to keep it light. I don't like to feel like my skin has a layer on it. I like things that absorb quickly, and I'm always rushing in the morning. I'm not a morning person. It's all about getting ready quickly, so I can sleep the longest. That's why my routine has to be minimal and and consistent. 
You still haven't answered my question. How long do you spend on your face?
Five minutes! Truly! Oh and factoring in sunscreen as well!
What is your go-to makeup look for events and red carpets?
I like the fresh style of makeup. I love a neutral smoky eye. I love playing with browns and peach tones. I don't play with so much colour on the eyes, but depending on how formal the event is, I'll go with a bold lip. I love red lips.
How has your approach to makeup and skincare changed over the years?
I think I paid more attention to them. Especially with the variety. Like now I've been a lot more open with experimenting. I am not strict with my skincare routine. And having access to products as well and being able to try them, has really helped me in seeing what works for my skin. I know of people who have a Holy Grail of products and stick to them for life, but I am very open to trying new products.
When did you start taking care of your skin? 
I was always aware of the benefits of taking care of your skin, because my mother instilled it in me. I've always watched her do it and she's great, very regular and stringent in her skincare routine. Haha! I see her masking all the time. She'd walk around the house with a mask. So I know that prevention is better than cure. And I started taking care of my skin at age 15/16.
After being the face of beauty campaigns for brands such as Chanel and more, has your perception of beauty campaigns changed, now that you have been both the consumer and the face? 
I mean, I have become quite particular. As a consumer, you look at the end results — how beautiful this product looks. But having been on the other side of the camera, and so involved with its creation, I now focus on things like the lighting – is this lit well, the colour grading. I get technical and I know the effort it takes to create.
What is the one beauty product that you will never leave the house without?
I'd say, a lip balm. I usually have tinted lip balm around with me. I bite my lips all the time. Unconsciously. I think it's a nervous habit. So when I have something on my lips, I'll know not to bite it.
On Nana: Blouse, House of Holland at The Outnet. Pants, Longchamp. Earring, Lauren x Khoo Fine Jewelry. On Fiona: Jumpsuit, Hermes. On Gani: Jacket, Hugo Boss. Earrings, Lauren x Khoo Fine Jewelry. On Janeena: Dress, Tory Burch.
Photographer: Wee Khim
Stylist: Debby Kwong 
Makeup artist: Audrey Wee using YSL Beauty
Hairstylist: Junz Loke using Kevin Murphy
Producer: Cindy Ow
Photography assistant: Alwin Oh
Styling assistant: Tammy Kwong