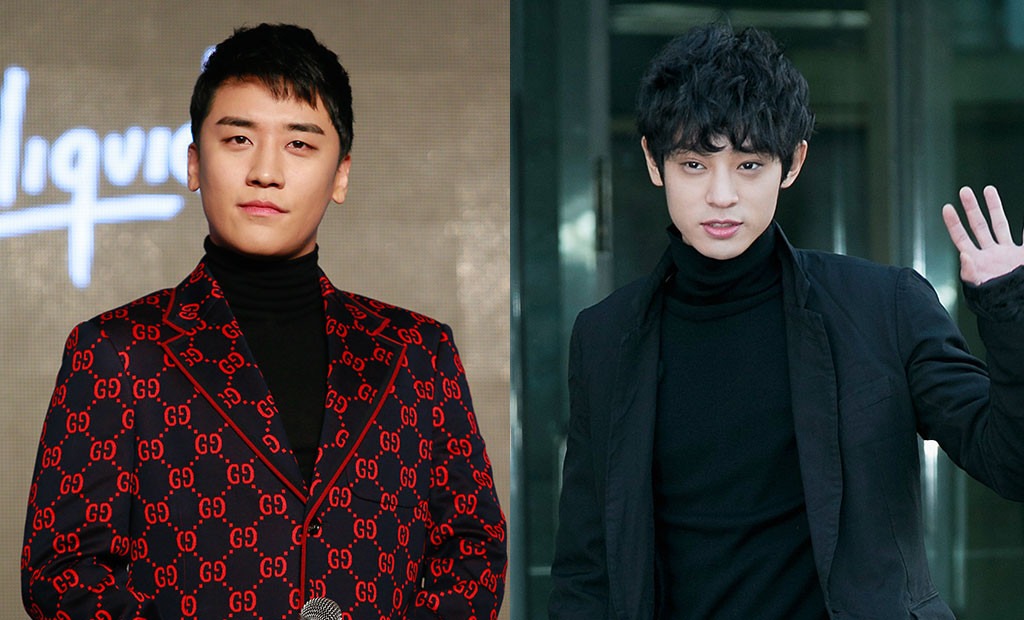 VCG/VCG via Getty Images
Where we last left off, Big Bang's Seungri was booked for allegedly violating anti-prostitution laws in South Korea. He became an official suspect after police officers searched the night club, ARENA, where Seungri had reportedly sent prostitutes to service potential foreign business investors. After stating that he will comply with the police investigation, the singer took to Instagram to announce his retirement from the entertainment industry. 
According to Allkpop, a Korean entertainment news portal, YG Entertainment made a statement after this announcement. A representative said the following: "We have belatedly confirmed that Seungri has released a message to the public about retirement. It was something that he uploaded himself without consulting YG Entertainment first," they commented. "Currently, we have no additional comment we want to add in regards to this. It has still yet to be decided whether or not his contract will be terminated. We will let you know once the situation is figured out."
The police have also stated that the Kakao Talk group chat which was submitted as evidence for Seungri's prostitution charges have been confirmed to be legitimate. The police official said, "Following analysis of the Kakao Talk conversations, it was confirmed that chat room actually existed and the conversation were not fabricated or manipulated."
According to official police reports, the Kakao Talk chats were obtained when another celebrity, who was in the aforementioned chatroom, sent his phone for repairs. The full chat was obtained through his phone and is now currently being investigated by the police. 
Yesterday, more evidence surfaced against Seungri and this time, other male celebrities as well. South Korean news outlet, SBS funE reported that another group chat consisting of Seungri, singer Jung Joon-Young, Mr Kim (an acquaintance of Seungri who worked at ARENA), CEO of Yuri Holdings and 4 other people have been sharing hidden camera footage and photos. 
One example, as reported by Korean news site SBS FunE, happened on 9 January 2016. Mr Kim shared videos of a man and woman engaging in intercourse. In the video, the woman appeared to be very intoxicated and seemed unaware that she was being filmed. Mr Kim then followed up with three additional photos of the woman, all of which were secretly taken. The man who was in the video was also in the group chat and was unfazed by the images. He seemed to be aware that they were being filmed. 
According to South Korean laws regarding sexual violence crimes, filming or sharing hidden camera footage is subject to five years or less in prison or 30 million won in fines. Seungri will be investigated for this, alongside the allegations of prostitution. Therefore, he has been banned from leaving the country. 
30-year-old singer, Jung Joon-Young is now embroiled and will be investigated as well, due to his participation in disseminating hidden camera footages. In the group chat, Joon-Young has allegedly sent sex videos, photos of unconscious women as well as body parts of women. These women in the photos were all seemingly unaware that they were being recorded. 
It was also reported that Joon-Young was also in the Kakaotalk group chat that involved Seungri getting his Burning Sun employee to hire prostitutes for his clients.  
The story is developing. Look out for more updates on this story.