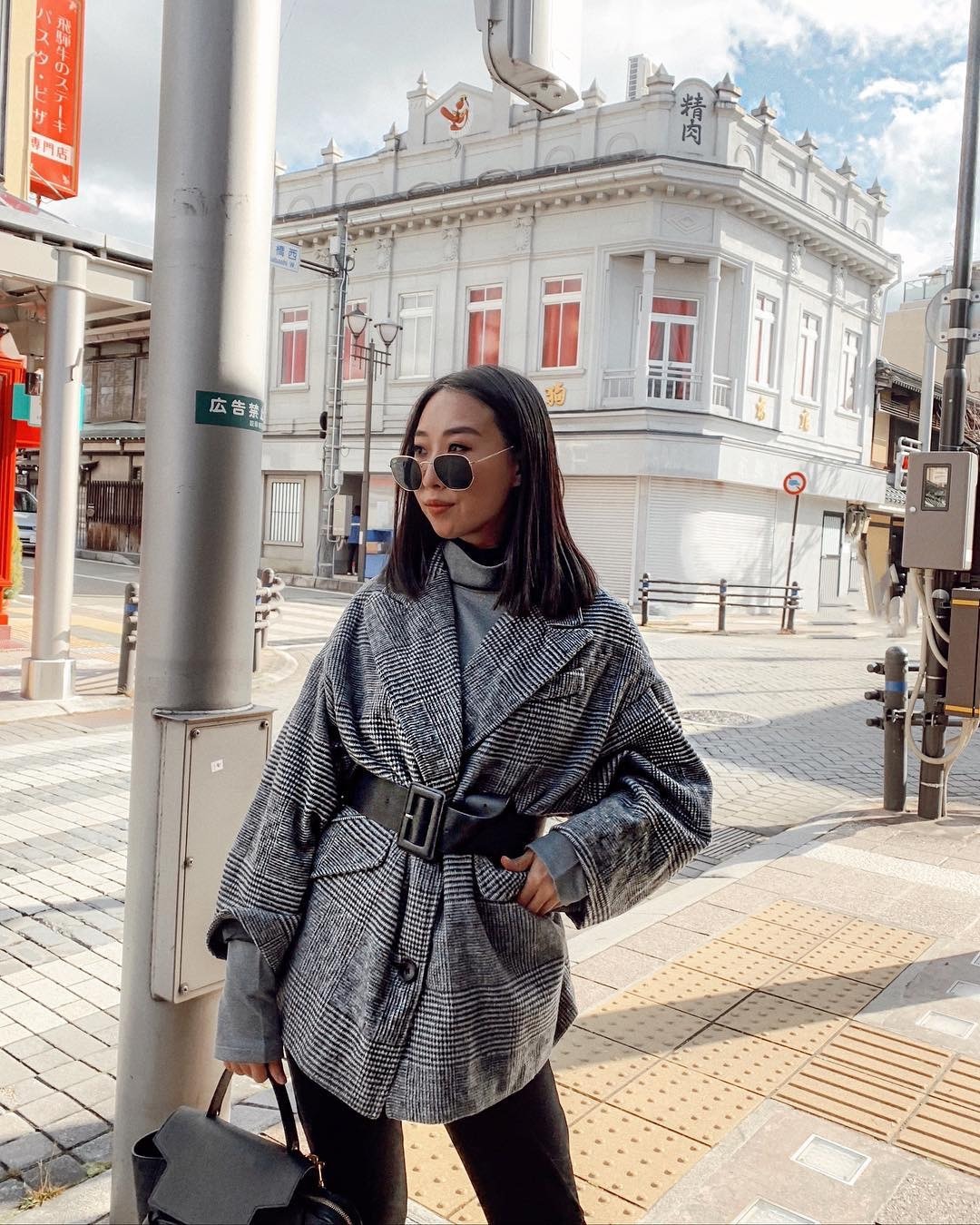 Instagram
Long and lean with a jet black lob, Emily Jaury dares to command our presence. Impeccably dressed in a sophisticated mix of high end designer purses and low end local designers, the Jakarta-based 24-year-old entrepreneur is the head honcho of LOVE AND FLAIR, an online boutique that she co-founded with Dewi Purwati.
Prior to the founding of her boutique, Jaury studied at USC, where she majored in business administration and graduated with a Cum Laude. Backed by her stellar academic background and natural flair for entrepreneurship, Jaury has built a steady empire at LOVE AND FLAIR by supplying local designers alongside in-house labels. With 102K followers on Instagram and counting, the Insta-savvy USC alumni's laser-sharp determination and hungry ambition reminds us of Sophia Amoruso, whose rise bears a similar beginning.
Recently, Jaury and Purnadi were crowned as one of the top 30 Under 30 entrepreneurs by Forbes Indonesia.
Ahead of International Women's Day, Jaury and I catch up over e-mail to talk about the origins of LOVE AND FLAIR, an upcoming collaboration with fashion influencer Olivia Lazuardy, and the number one de-stressing method that she swears by.
E!: How did you start LOVE AND FLAIR and what made you launch it as a multi-label store?
Emily Jaury (EJ): LOVE AND FLAIR really stemmed from our love of online shopping. When my partner and I were finishing up our studies oversea[s] and going back for good to Indonesia, we asked ourselves, "Hmm, where would we shop when we're back?" In 2014, the options were not vast — there were the luxury brands and fast fashion mass retailer[s] like Zara, H&M, Forever21 — but[,] with nothing in between especially [the] online and local-based [stores].
Seeing the opportunity, my partner and I started to buy wholesale from other Southeast Asian countries and resell them under our own brand. However, after seeing the growth and the potential of local brands and designs, we decided to pivot and launched as a multi-label retailer with a vision to become the leading omni-channel brand and retailer that is fashion-forward, aspirational and accessible for consumers.  
Most Indonesians (after they finish their studies in college) would usually work for their parents, but you are an exception by launching your own name as a fashion entrepreneur/designer. Was fashion always something you wanted to pursue since young?
EJ: No, fashion wasn't something I planned on pursuing but in hindsight, it was always a passion I have growing up. When I was little, I would wrap [a] Balinese shawl and tie the edges into a dress and do the same for my cousins — so the passion to dress up others and create beautiful designs have always been there!
Apart from being the co-founder of L&F, you run three labels Suki, Front Row, plus And Other Days. While all of them are for the everyday woman, why do you choose to design three brands at the same time? What inspired you to develop the concepts behind each label?
EJ: I'm not the designer for our brands. We actually hire design school graduates to design for each labels and follow the aesthetic we want to portray to the ideal customer. The different brands and styles provide choices and product mix, align with our mission to make women look and feel great by delivering products that are on-trend, high quality and of good value.
Feminism is such a huge part of your brand identity. Would you identify yourself as a feminist?
EJ: I never really call myself a feminist and there's this quote: "I do not wish women to have power over men; but over themselves." I feel that everyone, regardless of their gender, is a work in progress and have the power within themselves to reach their best potential and live a life accordingly to how they define happiness and fulfilment.
I'm so stoked about the Better You collection, which you've collaborated with Olivia Lazuardy. How did it happen and what inspired this collection? Can you tell us more about the collaboration process?
EJ: Throughout the years, LOVE AND FLAIR has built a cult-following through our strong influencer campaigns and collaborations — with most being organic relationships. Olivia and I have been friends and working with each other since we first started our company so the collaboration happened naturally through conversations. The collection revolves around the new year and creates a classic wardrobe that will make the wearer feels great, confident, and ready to slay the day.
If you have to pick a piece from the Better You collection, which one is your favourite garment and how will you style it for different occasions?
EJ: [The] Movi [s]kirt, designed by Olivia Lazuardy and a Surabaya-based brand called Flomors. It's timeless and definitely a statement piece that I can wear day to night from work to happy hour drinks with a black turtleneck or [a] simple white blouse.
Not only have you collaborated with Olivia, we love that you teamed up with our very own E! News Asia hosts Maria and Elizabeth Rahajeng to launch a collection inspired by their memoir. Why did the memoir inspire you to create this collaboration?
EJ: Maria and Liz embody LOVE AND FLAIR's persona perfectly as we target the social, style-conscious and independent urban female. Their collection was named after their debut book Becoming Unstoppable, so we asked them to create pieces and designs that embody the message and would make the wearer feels powerful and unstoppable. How the customers feel when they wear the clothing has always been the top consideration.
These days, we're in an era where entrepreneurs are seen as celebrities thanks to being involved in reality TV, having a Netflix show, gracing the covers of magazines, a high following on Instagram and/or becoming memes. Have you always seen yourself as a celebrity? If not, do you think that fame distracts you from being focused on your business?
EJ: I don't really see myself as a celebrity but I do think that it would be hard to balance focus between fame and a professional work setting. I've been very lucky to have started LOVE AND FLAIR with my best friend during a period where women entrepreneurs are being encouraged and celebrated, which led to personal opportunities to work with big brands as brand ambassadors. But, I've made the conscious choice that LOVE AND FLAIR always comes first.
What's the secret to juggling between two (very demanding) roles? If you get stressed, what's your #1 de-stressing method?
EJ: [It's] coming to terms that I don't have to be productive or busy all the time. There's a time for everything and ultimately, we need balance in our life. I try to think with intention in how I spend my time, energy and attention so when I'm with my friends, family or loved ones, I try my best to just be present and be with them, not thinking or doing anything related to work. And when I'm at work, I would list down three top things I have to do for the day and spend 80% of my time on it. 20 percent is for other things that our team would need help or discussion with. Doing all this consciously really gives me a more peaceful state of mind.