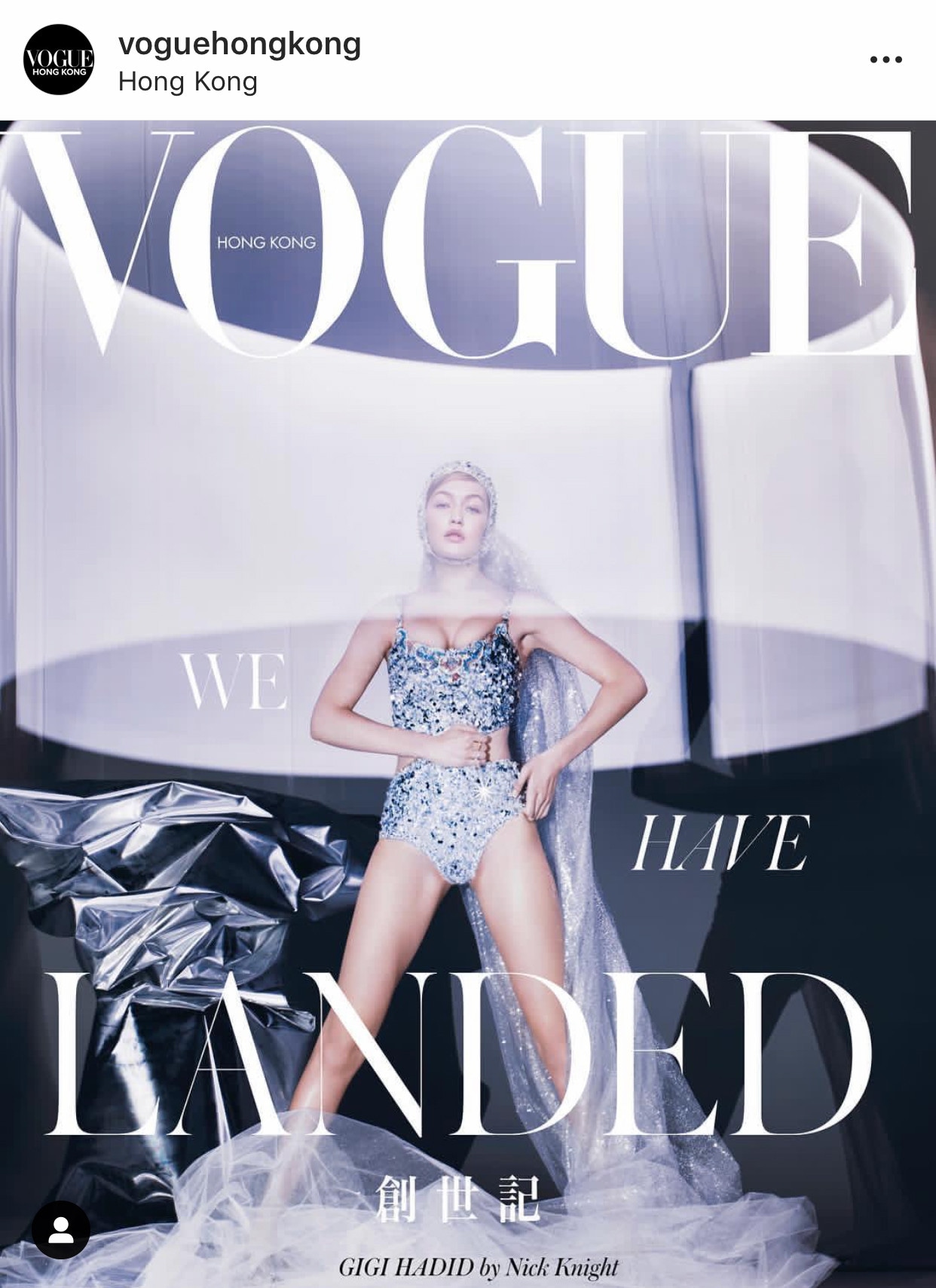 Instagram
It seems like Gigi Hadid hasn't been forgiven by the Chinese people for her previous transgressions.
The supermodel, who appears alongside Chinese model Sun Fei Fei, on the debut cover of Vogue Hong Kong this month faced a flurry of acrid comments and negative criticism on Instagram as soon as the three covers were posted.
Shot by notable fashion photographer Nick Knight, both models wear the latest Chanel haute couture collection in a futuristic setting, along with the cover line, "We have landed", signifying launch of the latest edition of Vogue.
But there has been backlash against Vogue's choice to feature Hadid on the cover of a magazine based in a predominantly Chinese country. Many commenters also referenced Hadid's allegedly "racist" actions against Chinese people in the past — in 2017, Hadid was filmed joking and making squinty eyes in an apparent attempt to mimic a Buddha cookie she was eating.
Hadid's solo cover was swiftly removed from the magazine's Instagram account, but commenters on Vogue Hong Kong's have continued to call them out, leaving disdainful messages that signalled their displeasure.
One Instagram user, @modelslegend, gave a lengthy post questioning the lack of local Hong Kong talent on the cover of the magazine instead.
"It's funny how Vogue HK did not choose any of its legendary characters like Maggie Cheung, Carine [sic] Lau, or even Miriam Yeung to be on the cover of its first issue. Instead, VHK chose Gigi Hadid, who 1. is racist towards asian population 2. bares no resemblance with the city itself 3: has nothing to do with Hong Kong's fashion history. I'm truely [sic] intrigued by the idea of bringing Gigi in out of all the other amazing models and local actresses under the circumstances when she was not welcomed in Asia. What's even more hypocritical is that it's publisher Au claimed the reason why VHK chose Gigi was because she shares the same vibe with the city, at the same time, added comments about how Gigi's racist behaviours have nothing to do with the magazine itself cuz Hong Kong simply alienates and filters everything that's happened outside. Honestly, VHKs survival strongly depends on the sales from mainland China and the surrounding Asian nations, however choosing such a controversial model and making such comments for its first edition is simply not a smart move."
Vogue Hong Kong is the 26th edition of the magazine to be launched and is on newsstands now.