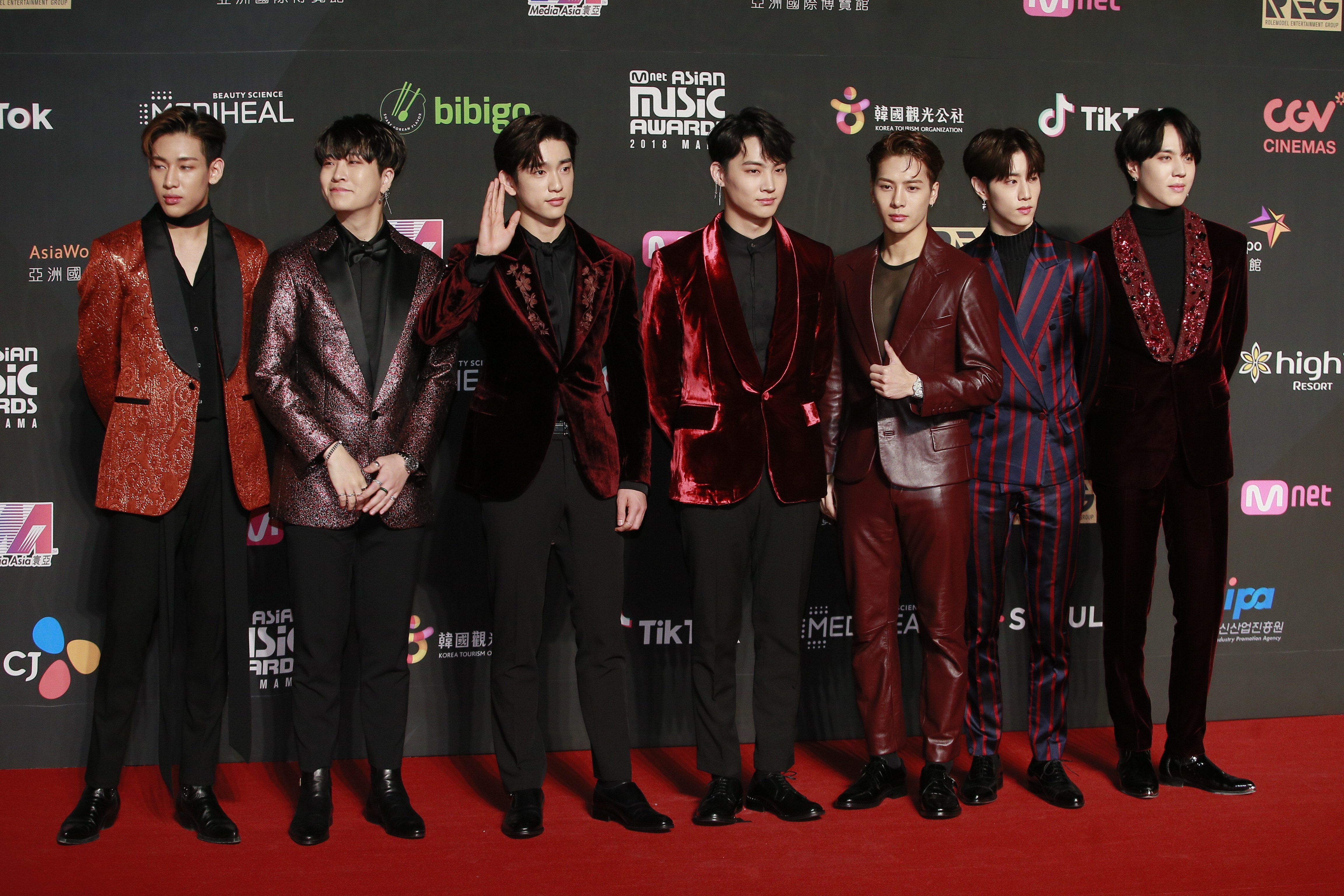 VCG/VCG via Getty Images
A quick browse through the music charts from 2014 to present will quickly reveal how consistent JYP Entertainment's GOT7 is at producing quality music that is loved by fans all over the world. Before BTS took the Western music scene by storm, these seven boys make up one of the first idol groups to ever hold the title "leading force of the global K-wave" — here's why.
With members hailing from Korea, Thailand, Hong Kong and Taiwan, it is no surprise to see how overseas fans have so readily fallen at these young men's feet. The rise of social media and the Internet have made idol-fan communications paramount to the success and thriving beyond the domestic entertainment sphere because everyone gets a chance to use a language they are familiar with, and fans get to take pride in having one of their very own being represented in this exciting, competitive and still-rapidly growing industry.
That being said, this group's in-built global appeal is far from the only reason as to why people love them so much. Their tracks will strike the tender chords of your heart as readily as they will make you want to close your eyes and lose yourself to pounding bass. Not to mention the impossibly physical stages and hilarious personalities that are feats to behold on their own. So before they soar to greater and more impressive heights, here are some things you should know about GOT7.
1. There are seven members: JB (Im Jae-bum), Jinyoung or Jr. (Park Jin-young), Youngjae (Choi Young-jae) and Yugyeom (Kim Yu-gyeom) are from Korea; Bambam (Kunpimook Bhuwakul Bambam) is from Thailand; Jackson (Jackson Wang) is from Hong Kong; Mark (Mark Tuan Yi En) is a Taiwanese-American.
2. GOT7's members are skilled in martial art tricking, a form of martial arts that incorporates kicks, flips and twists from gymnastics and breakdancing.
3. The name "GOT7" is derived from the popular belief that number "7" is lucky. It represents the group wanting fans to remember that they always "got" seven lucky members will always stay by their side forever, hence resulting in the official fan club name being "IGOT7". Both fans and GOT7 will remain lucky and together for a long time.
4. Their first-ever music show win was for "If You Do" on The Show, on the episode aired on 15 October 2015.
5. The GOT7 official light stick is topped off by a baby bird because the shortened Korean pronunciation of IGOT7 sounds similar to the Korean term for "young chick".
6. All the members starred in a web drama titled "Dream Knight" alongside other JYP artists including Miss A's Min.
7. GOT7 has had numerous reality shows in collaboration with V Live, Mnet and most recently XtvN. These include "I GOT7", "Real GOT7", "GOT2DAY", "GOT7's Hard Carry" and for this year, "GOT7 Real Thai".
8. As members JB and Jinyoung were the first to enter JYP as trainees in 2009, they were scheduled to debut as a duo named "JJ Project". Though they were eventually joined by the other five members to form GOT7, they came back with their second extended play "Verse 2" in 2017, five years after the release of "Bounce".
9. Jinyoung's official stage name Jr. is used to differentiate him from J.Y. Park, since both of their birth names are Park Jin-young.
10. Bambam and Lisa from BLACKPINK used to be part of the same competitive dance crew back when they were kids. They are still close friends today.
11. Yugyeom and Bambam are part of a '97 liner friend group that includes BTS's Jungkook, SEVENTEEN's Mingyu, Astro's Cha Eun-woo and NCT's Jaehyun.
12. Jackson was in the The Hong Kong National Fencing Team prior to joining JYP.
13. Youngjae was added to the line-up seven months after the group's official debut.