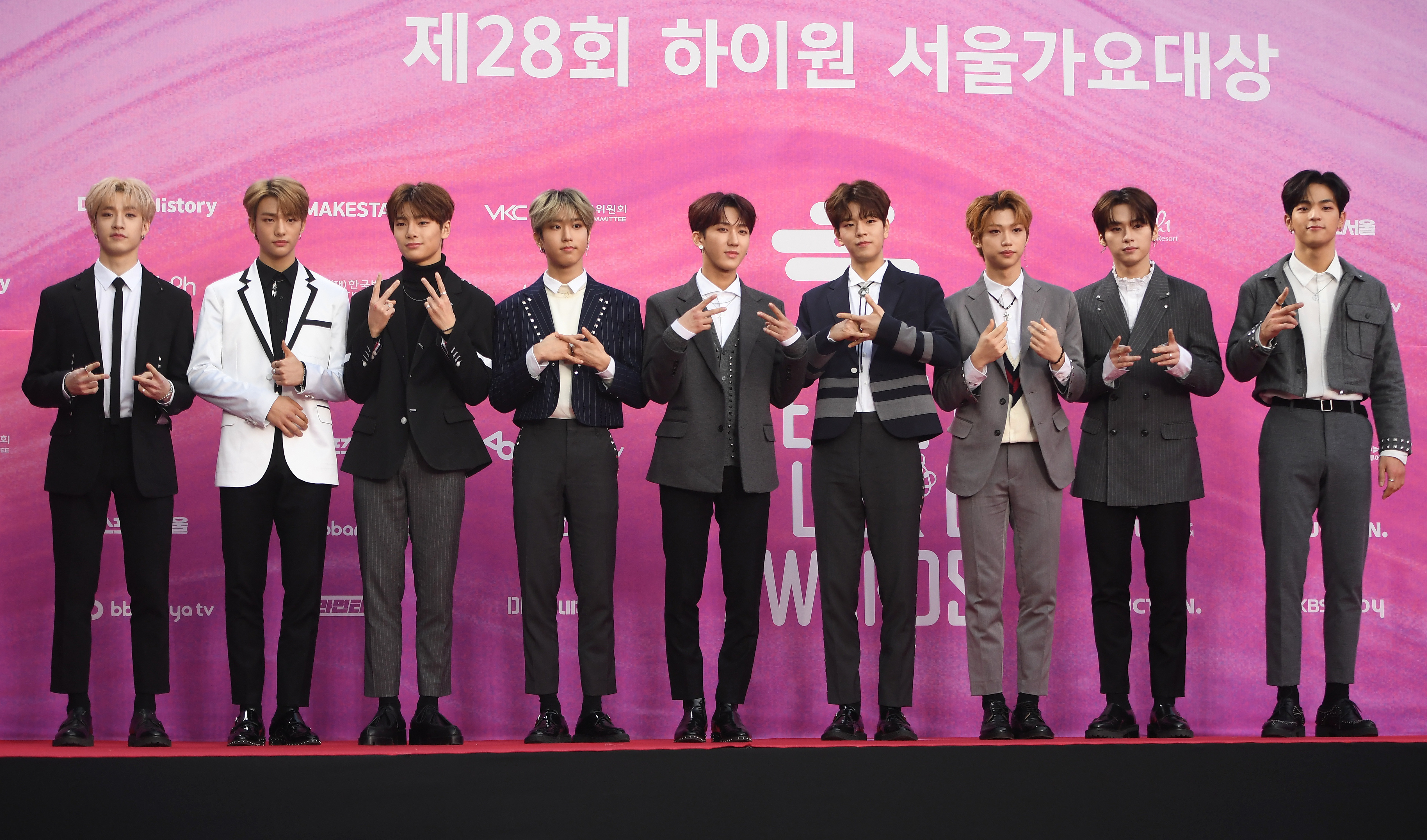 JUNG YEON-JE/AFP/Getty Images
It may be true that Mnet's wildly successful Produce 101 program is what sensationalised and gave rise to the whole host of idol survival shows that sprung up in the recent years. However, making sure that the new talents live long in the limelight is where such programs fall short — and certainly where JYP Entertainment's Stray Kids stand tall.
Here is a rookie group that has what it takes to bring K-pop up to the next level — with a charming rebellious streak similar to debut-BTS, the potential of these rising stars are nothing but infinite. With already 4 albums under their belt and hit songs like "District 9", "Hellavator" and"My Pace" killing the charts, here are 6 reasons why you should pay more attention to the spunk and spice of 2018's "Rookie Of The Year".
1. The nine members are all born between 1997-2001 are very much proud of it
The nine members are Bang Chan (Christopher Bang), Woojin (Kim Woo-jin), Lee Know (Lee Min-ho), Changbin (Seo Chang-bin), Hyunjin (Hwang Hyun-jin), Han (Han Ji-sung), Felix (Lee Yong-bok), Seungmin (Kim Seung-min) and I.N (Yang Jeong-in).
While they are some of the youngest in the current industry, being part of the younger generation today has made being an active part of their generation's conversation about life a goal for the band. The messages are told with such gusto that some were even reminded of early-BTS, back when they were full of angst and livid beseeches — if you do take a close listen, it is a surely logical conclusion that you will come down to too.
2. They are a team who work towards a common goal without leaving anyone behind
Unlike other idol shows, all nine members were JYP trainees selected by J.Y. Park himself to star in the show. Hence, when members Felix and Lee Know left the show, the strong bond they already formed over the course of the training period was laid out for all to see, making the return of the two members in the final line-up all the more sweet and heart-warming.
3. They are the group with the heaviest influence of hip-hop
Compared to label mates 2PM and GOT7, the group stays more loyal to hip-hop's sick beats and bouncy flows, offering a nice break from the pop and EDM-tracks popular on charts today. They embrace this style wholly — from their chic streetwear to their feel-good sound, there's no doubt that these young ones are keeping it fresh, 24/7.
4. Flavoursome skills from the talented trio 3RACHA
This tongue-in-cheek name is just one of the quirks that you will encounter while savoring some of the spicy spitfires of their discography. From "Matroyshka" to "Don Quoixote", members Bang Chan (CB97), Seo Chang-bin (SPEARB) and Han Ji-sung (J.ONE) have released numerous mixtapes that continue to emphasize their penchant for stylistic rapping and producing. Though they mostly upload their tracks on SoundCloud, they are credited in the assembling and creation of almost all of Stray Kids' songs alongside other producers from JYP. Talk about talent!
Chung Sung-Jun/Getty Images
5. Their stylish dances — creative choreography is definitely a unique trait that the members pull off flawlessly
In the episode where the members had to showcase original choreography to fellow trainees at the YG Entertainment, both YG trainees and the two company heads were floored by the authentic formations and concepts that supported the routines of their performance. What made an impression was also the way they reworked iconic routines from label mates like TWICE and Miss A.
While it is common fan knowledge that Lee Know had been a back-up dancer for BTS during their Wings Tour back in 2017, it is still a spectacle to behold when seeing their dancers take the space and work their magic to present the best stages that amp up the energy of all their powerful, banging tunes.
6. Vocal line? Never heard of it
While members I.N, Woojin and Seungmin are the main vocalists of the group, all the members, including the rappers, have shown themselves singing charming melodies on the survival show before debut. They can all nail songs that are as brooding as "Hellavator", or as sweet as "Awkward Silence", or even covers of JJ Project's "Tomorrow, Together" and casual belts of Day6's "Shoot Me".
The group just released a video titled "STEP OUT 2019" that not only summarises the high points of their first year in the business, but also reveals an exciting lineup of various new projects coming to fans this year. Ranging from their official light stick, first concert and a "Global Unveil Tour", be sure to bookmark their social media sites and YouTube channel on your phone or your browsers — you definitely won't want to miss out on this crazy ride to the top!
Related:
"Trolls" Fans: Yeri and NCT | E! News Asia