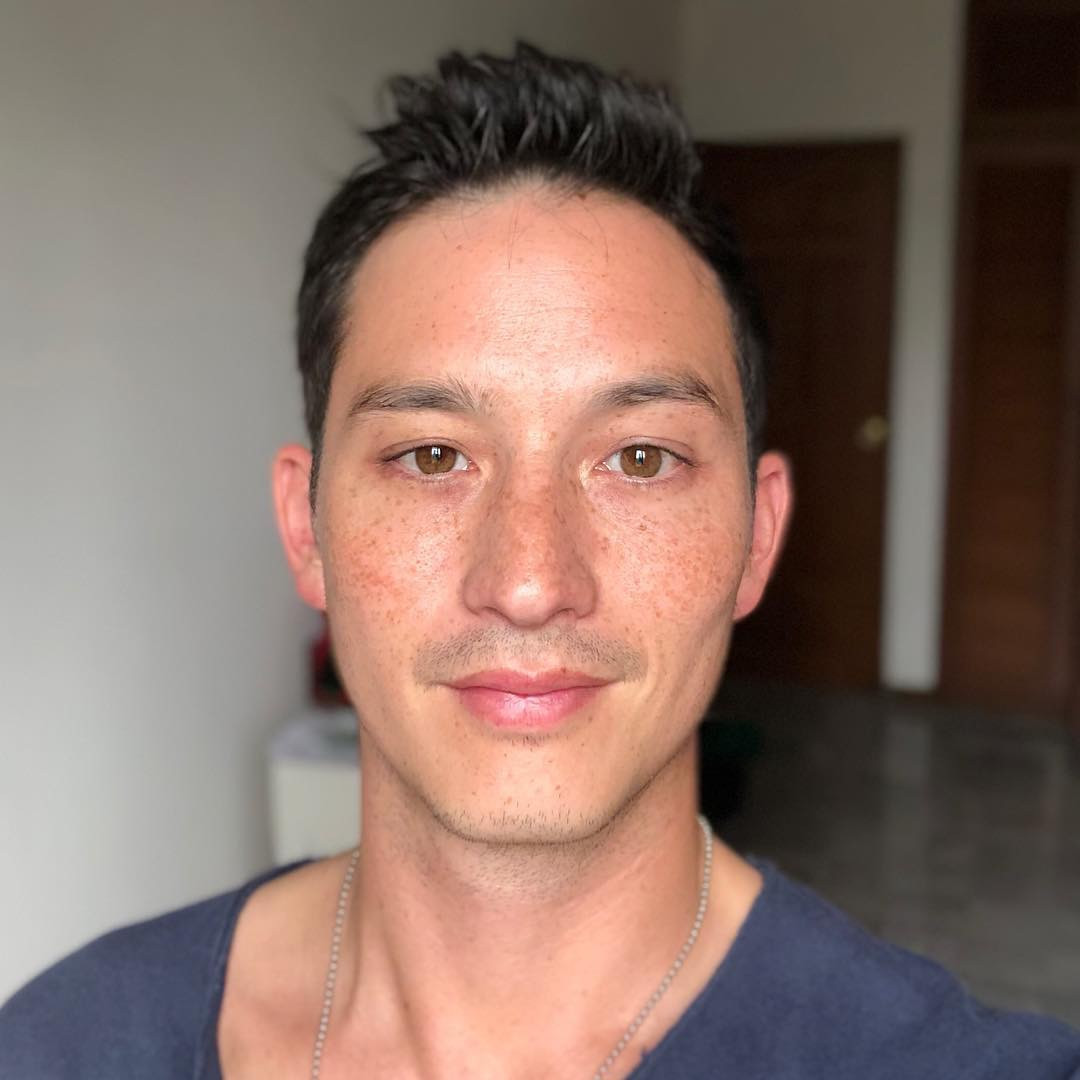 Instagram
Tall, suave and fresh-faced with sparkling eyes and freckles, Mike Lewis was born to be in front of the camera. Underneath his youthful visage, the 37-year-old father of one has worn many hats throughout his decade-long career as a model, actor, TV host and entrepreneur. For anyone who lives in Indonesia, you already know his name. But to anyone who lives outside of Indonesia, the quadruple threat is a showbiz veteran whose career spans from a string of rom-com films alongside appearances on Lifestyle Advocates and Asia's Next Top Model.
Recently, Lewis is returning to his cinema roots with two action flicks: Message Man and Foxtrot Six. With the latter scheduled for release on 21 February, Foxtrot Six is where we will see him play his grittiest role. Produced by Mario Kassar (of the Rambo franchise), Foxtrot Six follows Lewis and his gang attempting to save Indonesia from a corrupt politician.
Lewis gets candid about his unconventional road to stardom, his role in Foxtrot Six, his new passion for finance, expanding his career via social media, and the top advice that he swears by.
E! Asia: For more than 10 years, you've made a name for yourself as an actor, model and TV host. Although you only moved to Jakarta when you were a teen, why did you choose to start a career there as opposed to the US or Canada? 
Mike Lewis (ML):  I've been brought up all over the world because my father was a Canadian diplomat and he was posted to Jakarta. I took a year off university to stay with my family when we were [in Jakarta] and I fell in love with the place. So when I finished university, I came here on my own and I was going to follow my father's footsteps to be a diplomat myself.
I used to pay my through university by being a model in Montreal and New York so I had my modelling book with me and used it to work as a model in Jakarta as well. But what happened was that with my prestige in modelling, they asked me to do film here. That's when I was like, "I really like doing films!". So, I put that whole diplomatic career on hold. I did my first movie and it was a box office hit called Suster Ngesot (Sliding Nurse). It was a hit and I never looked back. That was the start of my film career and it was one film or TV series after another from that point.
Since you started off as a model and then you jumped into film and TV, which one do you prefer among all the three?  
ML: I think it went in stages. I started modelling when I was 13 in Thailand. Well, my mum pushed me into it and at first, I didn't like it. Then, I got to love it. And I loved doing film because I was transitioning. I used to do music videos as a model and [in] TV commercial[s] — I got into the acting part of that. I was transitioning to become a film star, but then of recently in the last I guess, five years, or a little bit more, I've really enjoyed being a TV personality. I get to be myself. It's nice being a film actor and being on all these roles basically living someone else's life, [and] getting in to experience a different lifestyle than your own by taking all these characters that you play. But, of the recent times, I enjoy expressing my own personality and bringing my own self into a program show. [laughs] I feel like if I can light up the show, why not?
Speaking of your personality, how would you describe it in three words?
ML: This is tough for me because I don't come off as being not modest or vain [laughs], but if I had to describe my personality, I would say energetic, charming and empathetic.
Between modelling, acting and hosting, what is it like for you to juggle all three roles at the same time?
ML: That's where "energetic" comes in. I have an endless supply of energy, [so] it allows me to take on more roles. I work in finance as well. I'm the type of personality that I don't feel like anything's "too much," I feel like I can take on a lot. My manager thinks that it's a lot, but I only do things that make me happy. I don't feel overburdened doing these things that I love doing. I feel lucky that I have them.
Speaking of finance, what made you jump into the industry all of a sudden?
ML: There's a couple things: I moved out of the restaurant industry — that was too time consuming. If you don't have the time for it, it's not gonna be good in the restaurant industry. Finance was because a childhood friend of mine works in [a] family business who is in finance. It was not something I planned to do. It just happened to fall into my lap and I have been running with it ever since.
Now that you're focused on acting, I'm excited about your upcoming movie Foxtrot Six. Can you tell us more about your role?
ML:  This has been a project that we started working on in 2011. Basically, the producer and director of this film came to us. There were seven of us at the time. It was really nice growing up with these actors as well. All of us made our own way into fame and that made us better at our independent roles at this movie. A lot of people didn't think that it would ever happen. 
My character's name is Ethan. We're an elite group of marines who basically support the one honest politician in Indonesia who is trying to give back to the people by taking away power from the criminal politicians. Ethan is the new guy who is super enthusiastic. I'm supposed to bring light into the group because it's a very serious film [and] subject matter. I hope to bring a comical side into it because my character doesn't take anything seriously. It was fun to play a super exaggerated version of me!
Was there a moment that challenged you to step up your performance?
ML: Definitely. There's a couple scenes where the director took me aside. He's like, "This is where I need you. You are the most dynamic character in this film. Your character covers so much ground where there'd be some comedy relief, feeding people to be sympathetic…  People know you as the handsome guy, but this is where you really show your talent." I hope I succeed in this. If you're an actor who's also a model, people kind of don't really want to respect your talent as an actor. So, I really hoping that this film can show people that I'm more than just a pretty face.
It seems like action movies are more of your repertoire than comedy and drama. Why do you gravitate towards this genre and why do you relate to heroes?
ML: I started off my film career by [doing] one horror [film], but the rest were dramas and romantic comedies. Don't get me wrong, I like to bring that comical, fun-loving side to the camera. For a while there, I kinda saw myself as the Hugh Grant type who was in all these romantic comedies cause people liked laughing at a funny accent. Why I gravitated towards action movies is [because] I wanted to be [in] one when I was a kid. I guess it's something I wanted to do. Bruce Lee, Jean Claude Van Damme, Stallone, [and] all these action stars from the '90s were inspirational figures to me. Getting to be anything like them is something I consider a privilege.
I realise that a lot of them have to use social media to land movie roles.
ML: These days, the world has changed from recognising people for their talent. People are getting movie roles just because they're famous. I don't know to what degree I am involved in that. I've been very picky about what I do film-wise. I get asked if I do cameos or small roles here and there, and I know that's just because they don't have a lot of followers. For me, it's nice to be wanted. But, at the same time, I feel for those who are trying to be the best actor they can be, but don't have the platform to get in.
Given that you have 700,000 plus followers, do you feel like you have an advantage because of that?
ML: I do, but I'm trying to take it for a face value because it's not that I appreciate it [but rather] I fall in love with the fact that I'm an influencer. I have the ability to reach so many people. I hope other influencers feel that as well. You have a role to play and a social responsibility to that impact people in the right way. So, it is a wonderful feeling. This is a world where I get to be an ambassador for change. This year and the past years, I've had some bad gossip about me. I want to show people that there are good ways to handle things. I try to show them that it doesn't have to be like that.
How can anyone who wishes to follows your footsteps start a career and if they have to pick a career to springboard with, what will it be?
ML: My number one advice (this is advice that I'll give to my son very, very very soon), is when I was little, people told me: "You can do anything you want. You just have to believe in yourself." I think the reason why I've been so lucky is the self-belief that I can take on any job or any role that I have in front of me. It's that belief that has allowed me to jump from career to career to career and accomplish some successes, but some failures, too.
This interview has been edited and condensed for clarity.