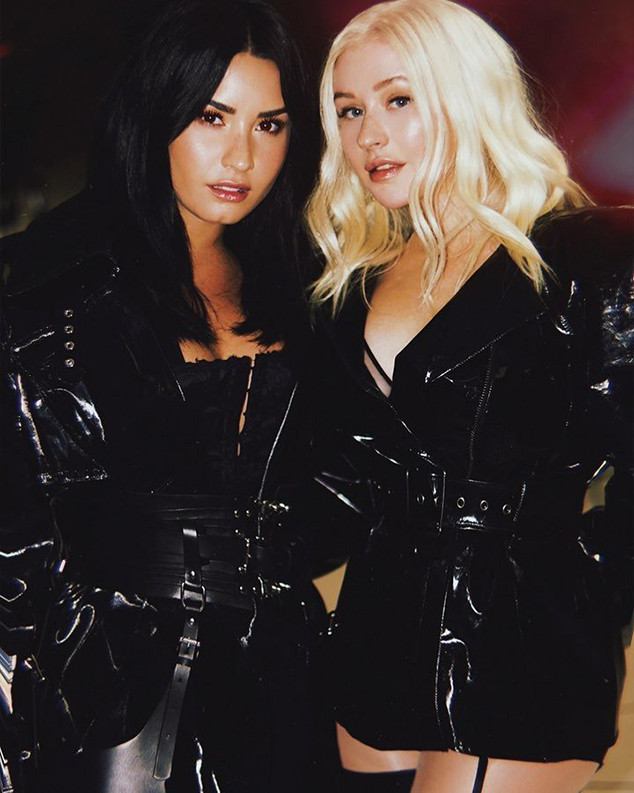 Instagram
Christina Aguilera remains in Demi Lovato's corner.
As excitement continues to build for the 2019 Grammys, many pop culture fans have their eyes on the Best Pop Duo/Group Performance category that includes talented collaborations from Zedd and Maren Morris as well as Justin Timberlake with Chris Stapleton.
But perhaps one special duo in the category is the ladies who helped create "Fall in Line."
"Demi was just such a sweetheart to work with and to shoot that video with," Christina shared in a new interview with the Associated Press. "Just to unite with a female that also grew up in the business and knows what's that like and to have her own stories and her own journey and such an admirable young female who is figuring her own stuff out and knowing how to be strong and pull through."
As for Demi's future, Christina is confident that the "Sorry Not Sorry" singer is going to be a-okay.
"Everybody has their own things they go through and I'm just so proud of her and I just think she is so adorable and such a talent," she explained.
Perhaps this song will be on the set-list for Christina's upcoming Las Vegas residency. Earlier this week, the six-time Grammy winner announced a new show titled Christina Aguilera: The Xperience.
Kicking off May 31 at the Zappos Theater inside Planet Hollywood Resort & Casino, the show promises to be the singer's "most ambitious show yet."
"It's been in talks for quite a few years now, but now that I've got my feet wet, I am going to do a residency in Vegas," Christina shared on The Ellen DeGeneres Show. "I'm really, really excited for people to enjoy this experience, Xperience, with me."