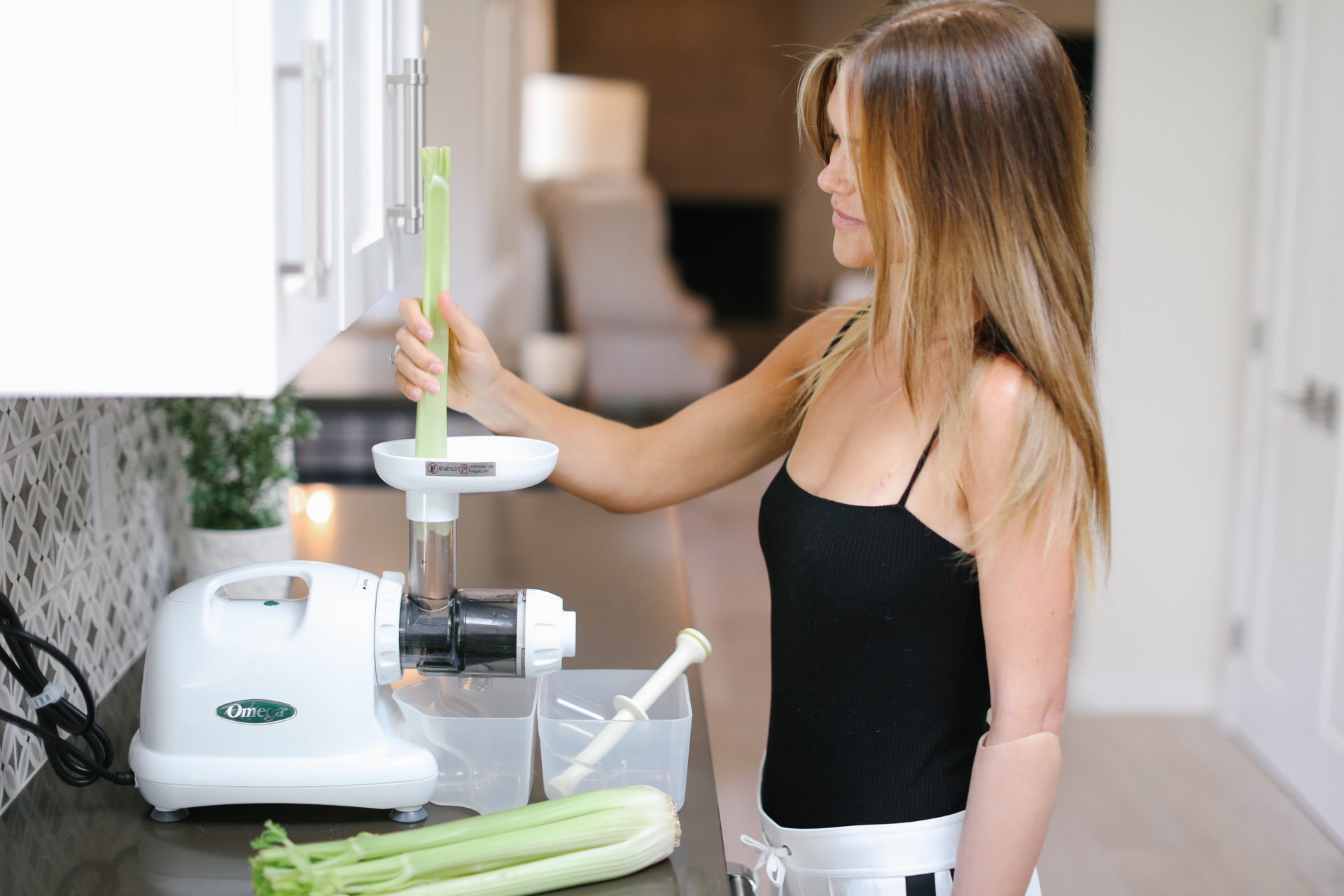 Courtesy of Lauren Scruggs Kennedy
Why not start the day with a fresh brew of… celery juice? This is the latest wellness trend to hit Instagram - hashtag I see it everywhere. Plus, celebs like supermodel Miranda Kerr, Goop-tastic Gwyneth Paltrow and the seemingly ageless Pharrell are reportedly fans.
So why guzzle the good green stuff? Well, it's supposed to be packed with antioxidants that help with inflammatory conditions, diabetes, gut health, and reducing cellular damage, amongst other benefits. Premature ageing? Ah, pass!
According to pioneer of the celery juice movement Anthony Williams, otherwise known as the Medical Medium, you drink 470ml of the celery juice on an empty stomach and let it work it's magic for at least 15 minutes before consuming anything else. As part of my New Year's health kick, I tried it out myself everyday and noticed my skin was much clearer in a matter of days. But someone who's been doing this much longer than me (at least the past six months) is blogger and E! News co-host Jason Kennedy's better half — Lauren Scruggs Kennedy (@laurenscruggs).
Lo, as she's fondly known, gave me the low down on all things celery juice.
Lauren, your blog is so inspiring! When did you start your health and wellness journey?
Thank you so much! My parents are very health conscious and active, so wellness has always been a foundation in my life, but I specifically started my personal journey when I was in college. After struggling with daily bloating for years, I started the elimination diet without knowing I was doing the elimination diet. It helped tremendously. As the years went on, I continued struggling with bloating and after my accident [Lauren lost a hand and an eye when she walked into an aeroplane propeller in 2011], intense fatigue. Because of this, I started extensively researching all things health.
You're all over the celery juice! What got you onto drinking the green stuff in the first place?
Yes! It has truly changed my life, that's why I am the biggest promoter. After six months of diligently enacting my gut healing protocol from my functional medicine doctor, Dr. Cole, I was still experiencing daily bloating and started experiencing constipation. Feeling hopeless, he prescribed me to drink celery juice every morning an hour before I ate food, and my bloating and constipation stopped within two days. My bloating has not been an issue since, unless on rare occasion when I eat food that I shouldn't.
Courtesy of Lauren Scruggs Kennedy
It's that time of year when most people are feeling a bit guilty about overindulging over the holiday period (yes, this includes me!). Is now a good time to start celery juicing? When our digestion needs a bit of help?
It is such an amazing time to start juicing and drinking celery. Most of our guts need healing even if we are unaware, and it is extra important to give it them extra loving after indulging over the holidays.
Why is it important that it be pure celery juice as opposed to mixing it with kale or apples for example?
If you add anything to the celery juice, such as cucumber, apple, or lemon, it dilutes the medicinal properties of celery juice. This info is straight from the Medical Medium.
Since you've been downing the juice everyday for many months, what would you say have been the main health benefits you've personally experienced?
Better digestion, decreased bloating, and increased energy!
I see you've been passing on the good word to others — Kathie Lee of the Today show credits you as the reason she's been drinking celery juice on the regular. Do you believe that almost anyone can benefit from CJ? 
It has been so amazing to see so many people incorporating it into their lives! I am not a doctor, but I would assume it would be so beneficial to everyone. Some may be allergic to celery, but if not, I say go for it! The amount of health benefits it has spans the board, so it is conducive to everyone.
You probably come across health fads all the time, why do you think celery juice is the real deal?
Honestly, I tried everything to feel more energised and to relieve my gut health and bloating issues, and drinking celery juice is the first thing that actually showed immense healing alongside other healing tactics such as clean eating, etc. It was so encouraging and is why I promote it so much!
Have you got Jason onto the juice?
About a week into my experience with celery juice, he was begging me for some! We both drink it every morning. 
Thanks Lauren!
If you are still on your health kick journey, Lauren can help you overhaul your lifestyle with her 90 day subscription program, called The Clean Sweep.