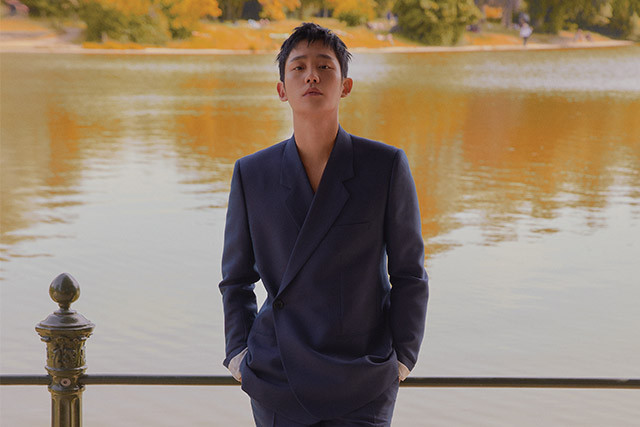 Photographed by Kim Hee-june; styled by Yun Seulgi for Esquire Singapore
It's been almost a year since the hit Korean drama Something in the Rain made a splash on Netflix, but Korean actor Jung Hae-in's star is definitely on the ascendant. Starring on the cover of Esquire Singapore's January 2019 issue, the actor opened up about fame, the challenges in his acting career, and the moment he realised acting was the only path for him to take.
In case you don't know who Jung is, the dashing actor had roles in two major productions that became worldwide phenomena in just two years: Goblin in 2017 alongside Gong Yoo, Lee Dong-wook and Yoo In-na, and Something in the Rain in 2018 with Son Ye-jin. The latter was an instant hit thanks to streaming giant Netflix, which picked up the series in 2018 and gave Jung a solid push into the limelight.
But speaking candidly in his interview, the 30-year-old actor told the magazine that his acting career has not been easy. "I don't think it has come this far naturally," he said. "I decided to pursue acting as my lifelong career when I joined the military. The more I am into acting, the more I have professional consciousness and the more I like acting."
"I feel that nothing's easy every time I act," he continued when asked about taking on roles that he was "afraid of" or "uncomfortable with". "I [feel] afraid at every moment and [experience] continuous challenges."
Photographed by Kim Hee-june; styled by Yun Seulgi for Esquire Singapore
Drawing attention for his roles in two major productions in just two years is no mean feat, but the actor shrugged it off with self-effacing charm. "I have never acted to receive attention, but I really appreciate people's love for me and my acting," he told the magazine. "...I am just thankful that I had an opportunity to act continuously."
On a more personal note, the actor also opened up to the magazine about his personality and how he behaves around people.
"I am a little shy around strangers, but once I get to know a person, I crack jokes and become a mischievous boy. I laugh a lot when I am with people who make me feel comfortable," he told the magazine with a smile. 
For the full interview, head to esquiresg.com
The January 2019 issue of Esquire Singapore is on newsstands now.