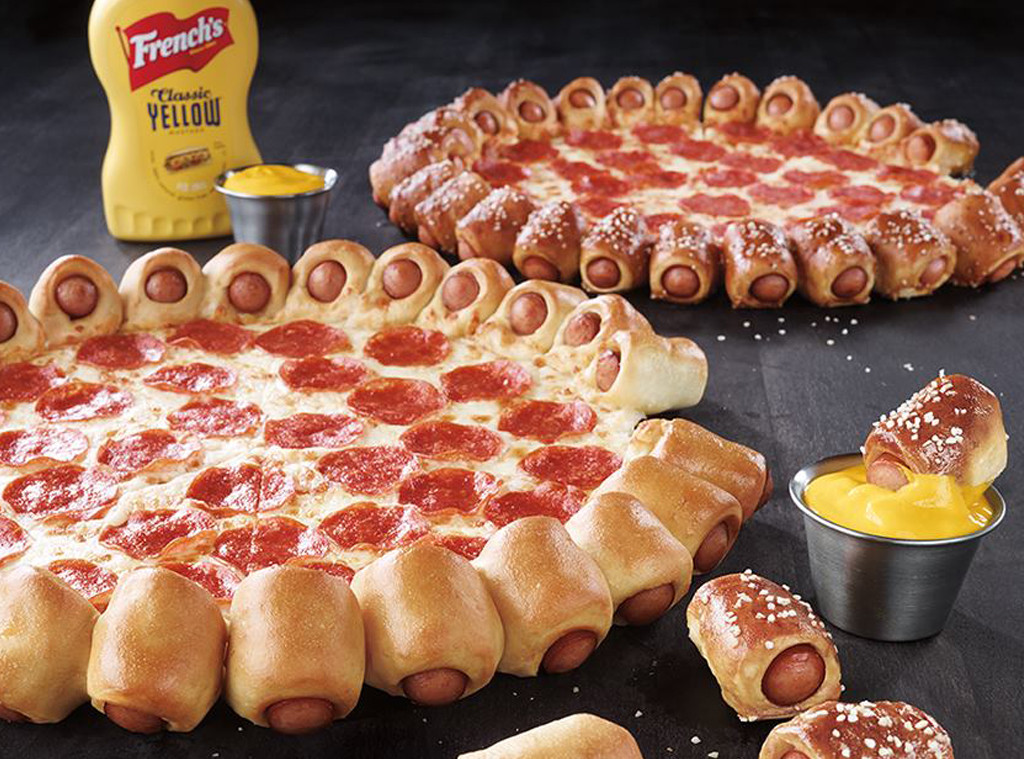 Facebook
"Look, if you had, one shot, or one opportunity to seize everything you ever wanted in one moment…Would you capture it, or just let it slip?"
Eminem's lyrics to "Lose Yourself" speak to us so profoundly right now, because we got the one shot, the one opportunity to taste test Pizza Hut's brand new Hot Dog Bites pizza, and we did not let it slip.
Nay, we captured it!
Jenna Mullins/E! Entertainment
Last week, Pizza Hut announced that they had created a brand new concoction that made Little Caesar's bacon-wrapped pizza look like a gluten-free veggie wrap. For just $11.99 you get a large, one-topping pizza that comes with 28 hot dog bites wrapped around the crust. We called it "the most American pizza ever created," and when we got the chance to try it out, our stomachs cried out in joy.
(Our arteries begged for mercy, but we ignored them).
Jenna Mullins/E! Entertainment
Here are our completely unfiltered, uncensored reviews of the new menu item after our E! Online pizza party:
"Innovative. Intriguing. Greasy. Magic. America."
"It was very…interesting. Very unique. Was kind of expecting the hot dog to be like, fully wrapped in the crust. I probably would have felt a lot less guilty about breaking my diet."
"This pizza is what the Founding Fathers had in mind when they talked about the future of this great country."
"As a huge fan of binge eating both pizza and hot dogs, this was a creation I have dreamed of for some time now. Did it live up to my own personal hype? Absolutely. The pizza stays true to the perfection that you have already come to expect from Pizza Hut, but the hot dog crust really brings it to another level. Picture this: Pigs In a Blanket pretzels bites from your local Aunt Anne's mall surrounding greasy, cheesy greatness. After fasting for 12 hours I was able to eat two full pieces, and 3 additional pop-able hot dog crusts. I'm slightly uncomfortably full, but worth every bite. I would suggest this for a drunk late night, a hungover Sunday or really any child's birthday party."
"I do think that this pizza would mesh perfectly with some beers." 
Jenna Mullins/E! Entertainment
"If you are having a party, this is the most efficient food to present to your guests. Rather than going back and forth between a pizza and a mini dog, combine them together and eat them together in an efficient manner.  No more wasting time in line and filling your stomach. Genius idea to mix them together. This may even be the next meal for any Gala event with celebrities, because deep down everyone wants to eat a pizza and a hot dog, and now you can have both in one great serving without the guilt of saying you had two portions, because in my mind, I ate one portion, and then I had seconds of one portion and then thirds of one portion. Sorry, I may have eaten a whole box because they were sooooo damn good and efficient to eat."
"I have never felt more American in my life. Slowly as I drifted into cardiac arrest the sounds of Toby Keith drifted into my head. "
"This was not one step closer to a good beach body. But, alas, I mustered up the courage and the pizza part isn't so bad. Although the pigs in a blanket are nothing like the pillowy creations my Mom used to make. Couldn't eat a whole mini hot dog, but if one is craving a good, cheesy, greasy creation, this is your solution."
"At the very least, it forces me to work out immediately out of fear of a heart attack. Jon Stewart was not wrong."
Jenna Mullins/E! Entertainment
"I can't tell if I like something until I eat nine of it in one sitting, so I had three slices and nine bites (total) to deliberate. The hot dog bites taste like, well, the frozen pigs in a blanket you'd buy at your local supermarket when you forgot you invited people over for dinner and it's 7 p.m. and someone just texted you for directions. Meaning they tasted OK. It's like my childhood in a bite. #Nostalgia #Imgoingtohatemyselflater."
"They taste like Vienna sausages. Also, the whole concept seems like a campaign promise from a kid running for 6th grade class president: 'If elected, I promise homework will be outlawed and hot dogs and pizza will become one in the cafeteria!'"
"OK, so this is basically a heart attack in a pizza box. I like the hot dogs separately, but once those are gone, how do I keep my hands clean when eating the pizza? I miss the normal crust! Plus, the mustard taste in my mouth from the hot dog really doesn't go with the taste of pizza.  So many mixed feelings!"
"I don't smoke weed, but if I did, I'd probably wake up wrapped in an empty pizza hut hot dog bite pizza box."