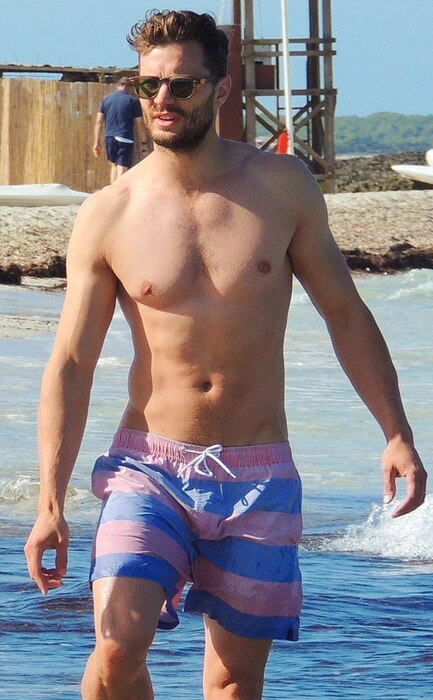 CordonPress/AKM-GSI
Hubba, hubba!
Fifty Shades of Grey's leading hunk Jamie Dornan stripped down to his swim trunks on the beach in Ibiza while on vacation with his family. Though he wasn't on set, the Irish actor looked every bit as sexy as his famous character Christian Grey when he stepped out in a pair of striped trunks, a pair of sunglasses and—thankfully—nothing else.
It looks like Dornan's muscular physique has kept up quite nicely since we last saw him half-naked on the big screen in 2012 for the highly-anticipated debut of E.L. James' literary trilogy. For those who are strangers to the global phenomenon, the three books chronicled the relationship between billionaire and S&M enthusiast Christian Grey and the breakout role of virginal college graduate Anastasia Steele, played by Dakota Johnson, daughter of Melanie Griffith and Don Johnson.
Women sprinted in throngs to see the first film on Valentine's Day of 2015—the sheer numbers quickly transforming a book read behind closed doors into the 7th spot on the top ten list of highest grossing films of 2015. If you haven't seen the films, these beach pics will help clear up any questions surrounding the film's immediate commercial success.