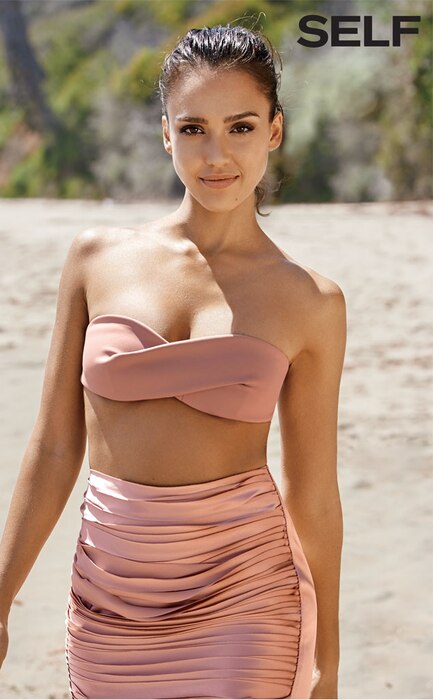 Gilles Bensimon
Fall may be approaching, but Jessica Alba isn't ditching the beach just yet.
The sun-kissed actress appears on the cover of the October issue of Self magazine, which features Alba strutting her stuff in the sand in a blush-colored bandeau and matching ruched skirt—the perfect ensemble to hug those killer curves. The Barely Lethal actress keeps her beauty look low-maintenance, opting for a simple messy ponytail and muted makeup.
In a second portrait featured in the editorial shot by legendary fashion photographer, Gilles Bensimon, the business mogul is even more stripped down, with untamed curls framing her face and a bare lip and subtle brown smokey eye.
The mother of two is juggling quite the handful these days—in addition to photo shoots on the beach, Alba is starring in three upcoming films, is mother to two daughters, Honor, 7, and Haven, 4, and is the co-founder of The Honest Company, a business currently valued at $1.7 billion as of August. Talk about multi-tasking!
"I've always been business-minded. I approached Hollywood like a business," Alba says. "I was very calculated. I wanted to be treated like a guy; I wanted to put asses in seats. I saved my money, invested wisely and marketed myself. I've been building my own personal brand over time."