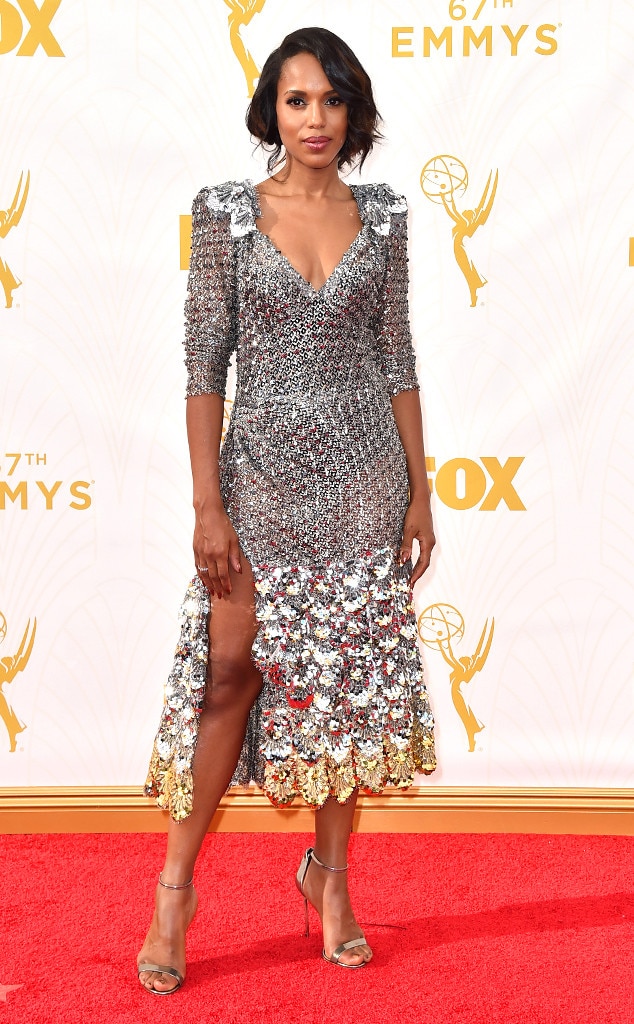 Jordan Strauss/Invision/AP
Gasp.
If we were wearing any pearls, we'd be clutching them by now: Kerry Washington has hit the 2015 Emmys red carpet in a drool-worthy mesh Marc Jacobs dress featuring all-over silver and gold hardware and some serious shoulder accoutrements. It might almost be an understatement to say she slayed, so we'll keep it simple: Kerry looks really, really good.
The Scandal star explained her iridescent midi to Live From the Red Carpet's Ryan Seacrest (after jokingly asking him who he was wearing), describing the look as fresh from the designer's spring-summer 2016 catwalk.
"It just was on the runway two or three days ago—and it has a lot of holes in it because it's mesh. And so in this weather it's working well. I feel the breeze in all kinds of places right now," Kerry quipped.
Yep, the dress is sort of see-through without going into naked dress territory, which makes us like it even more. Kerry deftly paired the sheer frock with a sexy bodysuit, proving that the hot mama still knows how to light the carpet on fire. (She's not the only one!)