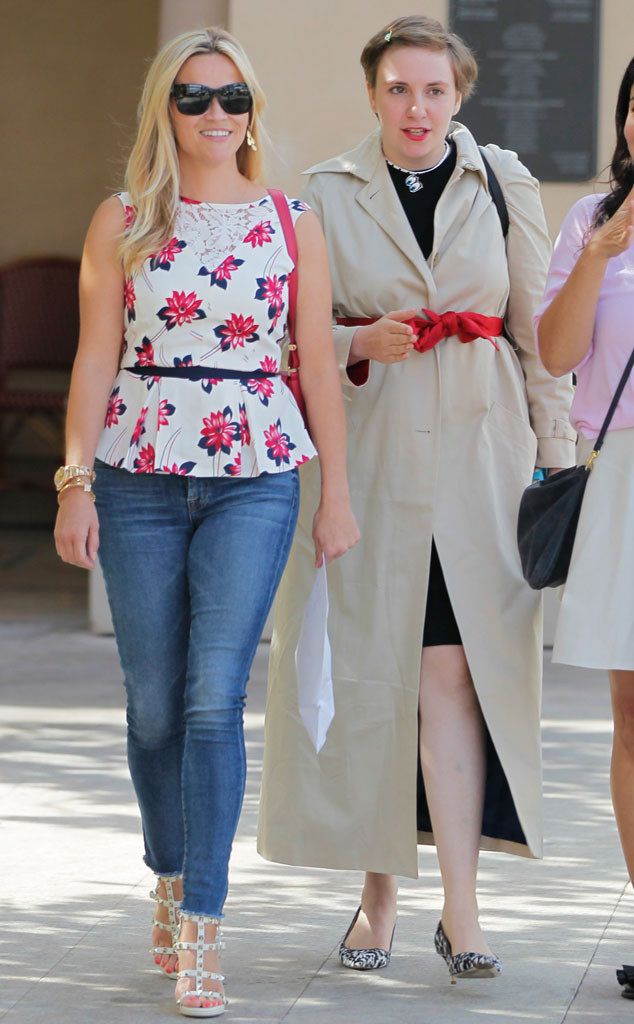 Bauer-Griffin/GC Images
What are Reese Witherspoon and Lena Dunham up to? The Academy Award winner, 39, and the Golden Globe winner, 29, had lunch with Dunham's writing and producing partner, Jenni Konner, at Bouchon Bistro in Beverly Hills Tuesday.
Konner was seen holding a manuscript of the upcoming novel All Is Not Forgotten, and Witherspoon's production company, Pacific Standard, is in the process of turning the book into a movie. Author Wendy Walker's thriller "centers on a teenager's rape in suburban Connecticut and the efforts by her parents and psychiatrist to help her recall the details of the attack," Variety recently reported.
The subject matter in All Is Not Forgotten shares similarities to what Dunham wrote about in her 2014 memoir, Not That Kind of Girl, so it's possible she was sharing more of her story with Witherspoon. After the meeting, Witherspoon left with a letter from Dunham addressed to her 15-year-old daughter, Ava Phillippe.
Neither Witherspoon nor Dunham has publicly revealed the reason for Tuesday's afternoon meeting. Regardless, Witherspoon has been a fan of Dunham's for several years. While promoting the movie Wild in September 2014, she thanked Dunham for promoting female empowerment and encouraging women to own their own sexuality. "I think she's changing cultural attitudes with her honestly and willingness to bare all," she said at the Toronto Film Festival. That same month, as part of Vogue's 73 Questions series, Witherspoon said she hoped to make an appearance on HBO's Girls. Asked about it in a Howard Stern interview, Dunham, said, "I love Reese and the idea of working with her. We're friends and I adore her, but she's never outright asked. But now I'm going to use this as an entree."