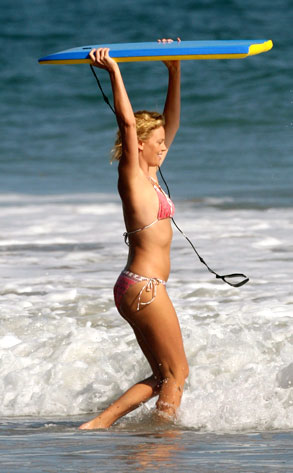 Flynet
Now that Michael Phelps is done kicking the crap out of everybody who steps foot in the pool, we find ourselves focusing on the 2012 Olympics in London. (Yeah, yeah, we know, the ones in Beijing are still going on, but really, what else is there to watch at this point?)
We got to thinking, after seeing Charlize Theron so gracefully carrying a boogie board through the Malibu surf this weekend, that this would make for a great Olympic event. No, not actual boogie boarding. Just the simple act of holding the board up while wading through the water in a string bikini.
Silly? Perhaps. But it would beat the hell out of watching speed walking again.
Check out the other celebs we'd be happy to see compete in our newly proposed Olympic event in our Summer Skin gallery.