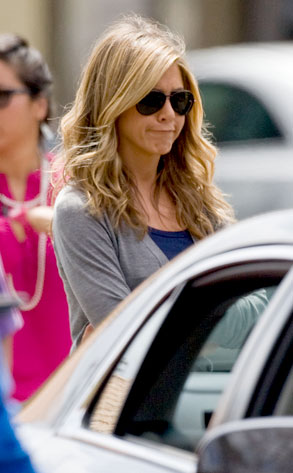 Bauer-Griffin.com
Dear Ted:
Has Jennifer Aniston ever been a Blind Vice? Also, though I'm sure every once in a while it hurts what Brad did to her, I think she really has moved on. My question is, I'm sure Jen could have said a lot worse to the press than "he's missing a sensitivity chip" if she wanted to about Brad. Do you think she has anything on him that she could have let slip, if she really wanted revenge? I swear, there are a whole lot of secrets in Brad's closet that Jen could have spilled. What's your take?
—ANC
Dear Ex-Factor:
Trust, Jennifer definitely took the (more) dignified route in this divorce debacle—of course, when you're married to someone for five years, you learn a few of their dirty little secrets, like what Brad liked doing down in Laguna from time to time. But, Jen A. has too much class to blab his business to the press. Plus, it totally wouldn't mesh with her laid back 'tude.
Dear Ted:
I don't think it's fair to say that Chely Wright came out just to sell her book and music. I'm no country music fan, so I'd never heard of her. But I did bother to take five minutes to read an interview. She's been around for like 15 years and started writing her book three years ago when she couldn't take hiding her sexuality anymore. Part of her fear was that country music fans wouldn't accept it, so coming out seems somewhat counterproductive to selling her CDs. But the book is coming out now, and she is finally owning her sexuality, so she kind of has to address it publicly, no?
—Christina
Dear Fame Game:
Sure, it was probably a relief for her to finally be open about her sexuality, but you said it yourself, you'd never heard of her—and neither had a lot of People readers. Well, guess who's heard of her now?
Dear Ted:
I just wanted to say you are my lifesaver! My husband is deployed with the Army and I am raising our two kids by myself right now. When I read your column, it makes me forget about all the stresses. So I was wondering, after looking at the Last Real Man in Hollywood if Johnny Depp has ever been a Blind Vice?
—B