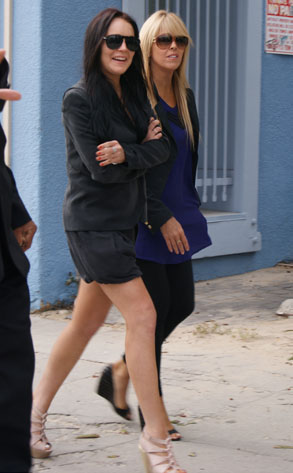 Chris Hall / E! Networks
Lindsay Lohan has already been punished by the county of Los Angeles for her many alcohol-related mistakes in 2007.
Today, she paid in a different sort of way, having to spend at least six hours answering questions pertaining to a lawsuit filed by the three guys who claim that Lohan commandeered their SUV to chase her former assistant after a party, a ride that ultimately resulted in her second arrest for DUI that year.
"Lindsay sat through an absurdly long deposition, and answered every question truthfully and honestly," Lohan's attorney, Ed McPherson, told E! News Tuesday. "We are anxious to go to trial so that she will be vindicated once and for all."
Lohan, with mom Dina in tow, was spotted leaving the courthouse at around 5 p.m., after which Mama Lohan denied that she and her little girl were partying till all hours last night.