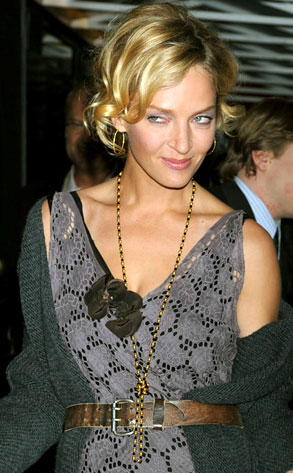 PacificCoastNews.com
Dear Ted:
Uma Thurman and Kristen share men. Do you find it interesting too that Uma is currently shooting Ceremony with Michael Angarano—Kristen Stewart's ex? Early next year she begins shooting Bel Ami with R.Pattz. Imagine the conversations around the crafts table.
—Always
Dear No Educated Guesses:
Uma's more likely not to acknowledge Angarano than exchange ex-stories. The little people, ya know? As for Rob, don't worry, she's not the cougar type.
Dear Ted:
I know Brooke Shields isn't in the spotlight much, but with Andre Agassi's book and the Michael Jackson funeral/circus, it made me think of her. She seems pretty normal (from what I can tell). Was she ever a Blind Vice? Was she involved in Andre's drug using or any wacko stuff with Jacko? Much love to you and your dogs! Best regards.
—Sandy
Dear Brought to Mind:
Only thing weird was that she actually participated in Jackson's funeral. From what I hear it wasn't something she wanted to do.
Dear Ted:
Love you! Question: Have any of your Blind Vices ever been Tiger Woods? Thanks.
—Dawn Walker
Dear Smart Lead:
Hah, not yet but he's definitely in the lead for one now, dontcha think? Or are his antics too out in the open?
Dear Ted:
What's happening with Robsten? Robert Pattinson is out with his pals, Kristen Stewart is missing, someone says Rob was at The Lovely Bones premiere, there's rumorology about Rob and his agent Stephanie. What's the truth in all this? Are you sure Robsten is all right? Thanks anyway!
—Joan
Dear Repeated Offense:
First off zero truth that Rob has a relationship with Stephanie other than professional. And he's allowed to check out other film premieres...Brangelina does surprise stuff like that all the time and they're way larger up on the fame-scale than Rob or Kristen. Robsten's fine. Cross my heart.
Dear Ted:
To the amazingly awesome Ted: I read your blolum religiously, you make me laugh...not an easy feat for most guys! This is my first time writing and I have a question regarding fans. I used to live in North Carolina up until about a year ago (now in Texas, I know I know, parents decision not mine) and I have met stars of One Tree Hill, Army Wives, few other stars and even some Bollywood stars. My friends think I am crazy for not asking for their autographs and such but is it so wrong of me to respect actors as human beings, say a polite hello, and leave them alone? I would much sooner have a doctor or police officer's autograph than a celebrity's. Acting in Hollywood is a job, not an open permission for people to go crazy and hassle their favorite star in a grocery store. Am I just weirdly respectful or...what?
—Confused about Fans
Dear Not a Fame Monster:
Wow, you're effing nice! Celebs must love you for being polite like that. Maybe it's the NC in ya. But compared to all the wackos out here crazed about celebs and autographs, you're the one that looks nuts, not them. Honestly, celebs should be flattered that someone wants their autograph because seriously, if it weren't for the fans, they'd still be waiting on tables trying to make it big in H'Wood!
Dear Ted:
Why do you just open up a Robsten blog to stop the bitchin'? Then we could get regular updates. By the way, where is Robsten? Thanks for keeping us informed about this beautiful couple!
—Recinellas