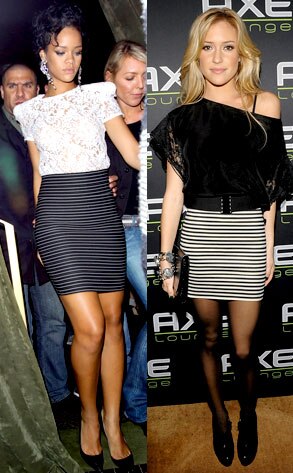 Nation Photo Group; Jamie McCarthy/Getty Images for Axe
Rihanna's involved in yet another feud. But at least this one doesn't involve any trash talking.
The singer and Kristin Cavallari are both fans of Pleasure Doing Business' striped bandage skirt. When K-Cav first wore hers she looked far from pleasurable. Yet, even though the pumps and off-the-shoulder top are a vast improvement they still make The Hills star look like a black-and-white box.
Rihanna wins this fashion face-off on curves alone.
Or do do you think the singer's '80s-style Balmain top is a deal breaker?
Vote now at mystyle!