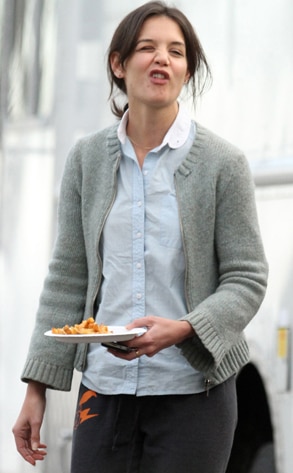 Swarbrick/INFphoto.com
Being married to superstar—and superexacting—megaman Tom Cruise must take its toll at times. Clearly, being the much touted third wife to still very handsome Cruise must cause one to crack (or chomp), on occasion. We suspect poor Katie Holmes, who's really just a sweet li'l Ohio babe at heart, has reached one of those breaking points, and it's damn well about time!
Probably in her most un-red-carpet moment to date, Suri's mama is lookin' more her natural self in rumpled everything as she grabs some fried potato snacks, with ketchup, in between filming scenes on the Long Island set of her latest flick, The Romantics, on Long Island. She's even wearing friggin' sweats!
Posh Beckham would probably pretend she didn't even know her BFF if they were to run into each other here, and that's not even counting the pile o' grub Kate's chewing and gabbing her way through!
Could you imagine Beck's other half doing the same, much less even being photographed anywhere near food? Certainly not. We dare say a truer, more for-real Katie...