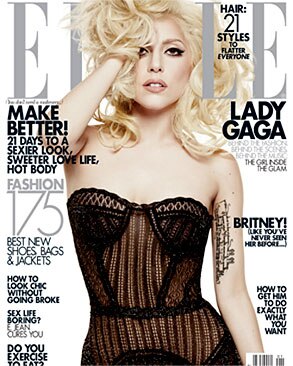 Elle Magazine
Lady Gaga is featured in January's Elle, where she says this about her sexuality:
"My album covers are not sexual at all, which was an issue at my record label. I fought for months, and I cried at meetings. They didn't think the photos were commercial enough...The last thing a young woman needs is another picture of a sexy pop star writhing in sand, covered in grease, touching herself."
So what did the fashion magazine do? They dressed up the usually bizarro singer with a taste for the avant garde like a sexy, generic normal pop star for their cover. They're a fashion magazine! They have the opportunity to style someone who will wear whatever crazy piece designers send down the runway just too see if they can get away with it, and this is all they can come up with?
Sure, we've complained before that her theatrics often border on exhausting, but this plain and conventional kind of beauty on Gaga is kind of a letdown.
And speaking of pop stars, Gaga also shares cover honors with Britney Spears. It's actually a really cute cover with Jayden James and Sean Preston, see: