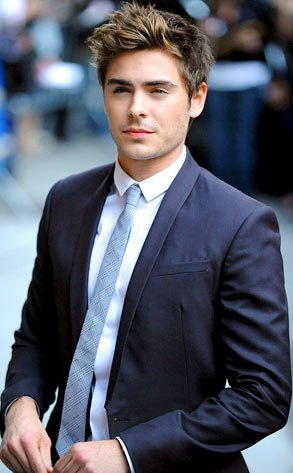 James Devaney/Getty Images
Dear Ted:
Read you every day. What is up with Zac Efron and the whole trying to be Rob with his hair? I even saw him in an interview mess with his hair like Rob does. Is he trying to get what he had before Rob came along?
—Sammy
Dear Vamp Zac:
Do you mean his giant teen fame? No, Efron's perfectly happy leaving the horny ladies to Pattinson. If you remember, Zac and his hair came first. We love us some R.Pattz, but he doesn't own the right to good hair gel.
Dear Ted:
We'll, I went to see New Moon and I loved it. Why are some people who call themselves Twi-hards hating on New Moon? I don't understand. I read all the books and like I've said you can't compare the books to the movies. Of course the books are better, but what I enjoy is seeing the character's come to life. Edward, yummy! Yeah, some parts were cheesy but to see it is what amazed me and for the money they spent to make it come on, I think it was pretty damn well done. What do you think? Help me understand these haterz!
—Service
Dear New Moon, No Wrong:
Jealousy, probably. The movie was good, def better than the first one, I'll tell ya that...but I do think the script could use some work, and some spice. That's where I think the franchise should shake stuff up a bit.
Dear Ted:
Do you know what's really happening with Nick Jonas going solo, does he really plan on playing with his brothers forever?
—Supergirl
Dear Broken Brothers:
Not sure if he can make it solo. it's like if the three of them aren't together, they can't function. But Nick has the best shot out of all of them. He's got some Miley in him.
Dear Ted:
Everyone was hoping for Robert Pattinson to do SNL. MTV even said he was the most in-demand to host SNL. So if they can get Taylor Lautner to do it, why not Rob?
—Karen
Dear Comedic Vamp:
Haven't heard anything for sure, but Rob's so hot right now what he wants, he gets. If he wanted to host SNL he would be. Solo. Think he just needs a break probably. Taylor's like the Energizer Werewolf.
Dear Ted:
Thanks for the goss on Prince William and Kate Middleton—love anything royalty-related and can't wait for them to marry!
—Nadine J
Dear Kiss the Prince:
No prob, babe! Love the royalty, too, and it helps that Will is a hottie, but give me Prince Harry any day.
Dear Ted:
I just wanna say I totally love you and your column. I read you everyday lol. I am a recent Twi-hard, and I just love everything Robsten! Was I the only one that noticed that a little too long groan when Rob & Kristen kissed in New Moon. I loved New Moon specially the end! However, I did expect a little more. What's your take on it? Kiss, kiss.
—Alessandra
Dear Sexual Intensity:
Since Rosbten isn't the PDA type, guess they just go with it when they're Edward and Bella.
Dear Ted:
Tiger's "alleged" mistress sure gets around.
—Dnnro
Dear Herpasorous:
Allegedly...yes.
Dear Ted:
I have been rewatching some of Nikki Reeds old interviews and her latest Rolling Stone interview. This girl is great. I get sad when I think of all the rude commentators on this site towards her, especially when no one knows the truth. How come when paps get pics of anyone else well, the paps are just doing there job, but when it's of Nikki she had to have tipped them off. My friends have met her and said she was sweet, but very tired. Like tired of all this Twilight stuff. People call her a fame whore, but they don't know that right before Twilight she quit acting and moved to Hawaii, sold all her stuff, and was going to college. And Ashley GreeneI just don't know, she seems like a fameho?
—My_ballet
Dear Team Nikki:
We've certainly had a change of heart. It gets old poking fun at an easy target. While I've heard some different things about tipping paps off, I do think Paris Latsis has done some good for her. She's a sweet girl. Ashley is, too!
Dear Ted:
Hello gorgeous! Long time reader, first time emailing you. My favorite television couple (on and off screen) is David Duchovny and Gillian Anderson. Such fire between the two of them! My second... John Krasinski and Jenna Fischer. They have so much chemistry on screen. Why didn't they ever take it off screen like "Gillovny"? Is Jenna not glam enough to be John's type? Second question: How do I manage to get David and John in bed with me? Love you!
—Jmain