UPDATE!
Bass, Kardashian, Braxton Put On Their Dancing Shoes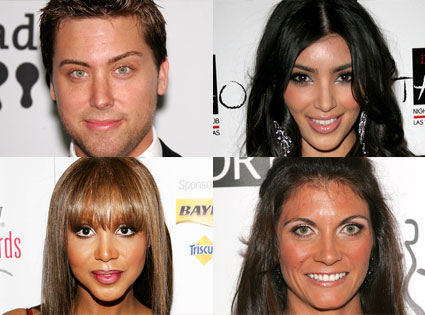 Lisa O'Connor/ZumaPress.com, Jeff Frank/ZumaPress.com, Joe Kohen/Getty Images, Bryan Bedder/Getty Images
The rumors were partly true: Lance Bass will be among the celeb hoofers on the forthcoming seventh season of Dancing With the Stars.
His pro partner, however—much to the chagrin of the blogging public, if not outspoken pro Karina Smirnoff—will be of the fairer persuasion.
Bass leads the roster of 13 for the latest installment of ABC's hot-stepping hit, a group of contestants cobbled together from the worlds of music, acting, reality TV and, in a bit of perfect timing, Olympic-caliber sport.
Here's the full list:
Former 'N Syncer Lance Bass; pro partner Lacey Schwimmer
Keeping Up With the Kardashians star and socialite/boutique owner Kim Kardashian; pro partner Mark Ballas
Grammy winner Toni Braxton, who just cut her Vegas show short due to heart problems; pro partner Alec Mazo
Retired NFL defensive lineman Warren Sapp; pro partner Kym Johnson
Toast of Beijing and one-half of Team USA's two-time Olympic gold medalist beach volleyball team, Misty May-Treanor; pro partner Maksim Chmerkovskiy
All My Children's resident daytime diva Susan Lucci; pro partner Tony Dovolani
Celebrity chef Rocco DiSpirito; pro partner Karina Smirnoff
Rock Star host and onetime E! personality Brooke Burke; pro partner Derek Hough
Gold medalist sprinter for Team USA in the Athens and Sydney Olympics Maurice Greene; pro partner Cheryl Burke
Up-and-coming Disney tween heartthrob and Hannah Montana costar Cody Linley; pro partner Julianne Hough
Sitcom utility player Ted McGinley (Hope & Faith, Sports Night, Married…With Children); pro partner Inna Brayer
Veteran Oscar-winning actress and recent Roast of Bob Saget scene-stealer Cloris Leachman; pro partner Corky Ballas
Comedian Jeffrey Ross, this year's heir apparent to Adam Carolla's entertaining yet uncoordinated mantle; pro partner Edyta Sliwinska
Kardashian has already handicapped herself, calling in to Good Morning America today to confirm that she was rushed to a New York emergency room Sunday night after slicing her foot open on a broken mirror in her hotel room. But she will go on with the show.
Meanwhile, for those playing DWTS Trivial Pursuit: Linley is set to be the show's youngest contestant ever at age 18; Leachman is the oldest at 82.
Several familiar pro faces are returning for the new season, with Mark Ballas, who strutted his way to victory with Kristi Yamaguchi, back to defend his title with help from new partner Kardashian.
The rest of his hot young thing pro triumvirate, including Houghs Derek and Julianne, will also return, the latter somewhat surprisingly as rumors she would take a sabbatical from the show to focus on her recently launched country singing career had been making the rounds since last spring.
The most notable new addition on the pro side is Corky Ballas, who teams with Leachman. Ballas is the father of Mark and was the live-in dance coach for his son and the Houghs back in London.
The celebs met with their pro partners last week and have already begun a grueling practice schedule in anticipation of their three-night premiere, Sept. 22-24.
As with last season, two couples will be eliminated during the first week of competition. The Jonas Brothers and Jesse McCartney will perform on the first results show Sept. 24.
(Originally published Aug. 25 at 6:56 a.m. PT.)