DMX Sings the Busted Blues Again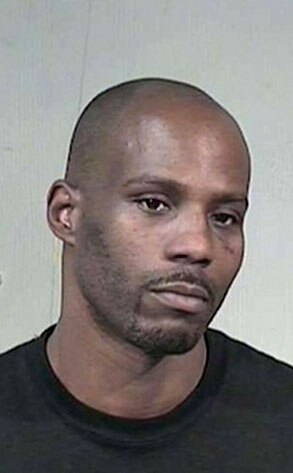 Maricopa County Sheriff's Office
In honor of the Olympics, DMX is apparently trying to break some sort of record.
The arrest-addled rapper was busted again Thursday, this time in Miami on an outstanding warrant for skipping another court date in Arizona related to his pending animal-cruelty and drug-possession case.
Pictures taken by TMZ show that police nabbed him outside a Wal-Mart this afternoon.
Although DMX's attorney did appear on his client's behalf Tuesday afternoon to provide documentation that his client couldn't make it because he was hospitalized in Miami (he wouldn't say why, though), the judge opted to issue a bench warrant anyway and raised his bond to $25,000.
"We provided intake documentation, and the judge said it was insufficient," Maricopa County public defender Charles Kozelka told MTV News Wednesday. "The judge said he should have informed the court sooner, and because it was the second time he'd missed court in this case, she issued the warrant."
The lawyer wouldn't comment on reports that DMX, whose real name is Earl Simmons, is in rehab, although he did say that the Cradle 2 the Grave star's camp is "working towards getting him some help, and we hope that will be taken seriously by all parties in this case."
Also asked why a man of DMX's presumed financial stature needs a public defender (the whole "if you can't afford a lawyer, one will be appointed for you" part of the Miranda Rights), Kozelka would only say: "He qualified for us, and he feels comfortable with me."
At the time, Kozelka was still hoping that his client could avoid yet another smear on his rap sheet.
"We are in court again next week on other matters, and my hope is we can get the warrant resolved by then and get back on track," he said. "We have some things in the works to get the warrant taken care of. My hope is that we can resolve it without an arrest, but he's been arrested at the airport before, so they obviously have an eye out for him, so I'm not sure."
In addition to an Aug. 19 court date related to his aforementioned pit bulls and pot case, DMX is due in court Aug. 26 to answer to identify-theft charges for allegedly trying to get out of paying a Scottsdale, Ariz., hospital bill by posing as someone else.
He was also arrested twice in one week during a June trip to Miami, once for driving with an invalid license and a few days later for allegedly trying to buy a small amount of marijuana and cocaine from an undercover cop.