UPDATE!
Christina Applegate Battling Breast Cancer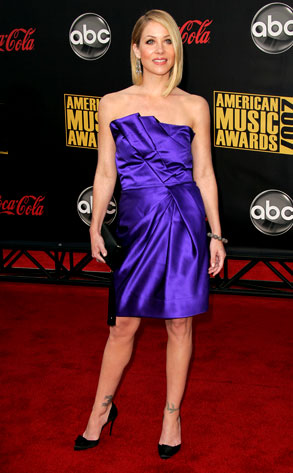 Lisa O'Connor/ZUMA Press
Here's to a speedy recovery.
Christina Applegate has been diagnosed with an early form of breast cancer, according to a statement released Saturday by the actress' rep.
"Benefitting from early detection through a doctor-ordered MRI, the cancer is not life threatening," publicist Ame Van Iden said. "Christina is following the recommended treatment of her doctors and will have a full recovery.
"No further statement will be issued at this time."
Applegate's rep also tells E! News that the 36-year-old Emmy nominee will maintain her regular shooting schedule on Samantha Who? while undergoing treatment.
The former Married With Children star is set to appear Sept. 5 alongside Meryl Streep, Jennifer Aniston, Scarlett Johansson, Charlize Theron and Sally Field at the Stand Up to Cancer telethon, which will be broadcast simultaneously on CBS, NBC and ABC.
A few weeks later, Applegate has a shot at her first Emmy for lead actress in a comedy for her role as a well-meaning amnesia patient who's trying to make amends for her rotten, pre-amnesia self.
Applegate's singer-actress mom, Nancy Priddy, is a breast cancer survivor. She was first diagnosed when her daughter was seven and reportedly underwent a partial masectomy.
In 2003, Applegate was the spokesperson for the Lee National Denim Day, which has raised millions of dollars for breast cancer education and research. Every October, which is National Breast Cancer Awareness Month, Lee Jeans encourages people to wear their favorite denim and make a $5 donation to help fight the disease.
Chandra Wilson and Tim Daly are the celebrity faces for the effort this year on October 3.
Other celebs who have fronted the campaign included Mariska Hartigay, Charlie Sheen, Rob Lowe, Lucy Liu and Pierce Brosnan.