UPDATE!
Lindsay Lohan Accuser Fired From Betty Ford Center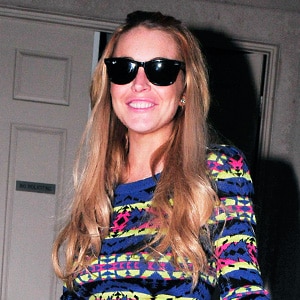 XPOSUREPHOTOS.COM
The ax fell swiftly at the Betty Ford Center.
The rehab organization has fired Dawn Holland, the woman who accused Lindsay Lohan of attacking her, as punishment for taking her story straight to the media.
Namely, TMZ.
PHOTOS: Why is Lindsay smiling?
Clinic spokesman Russ Patrick said the staffer was "terminated by the Betty Ford Center" for violating "strict confidentiality guidelines and laws by publicly identifying patients in a media interview and by disclosing a privileged document."
Holland filed a report with the Palm Desert Police, which said today that they're investigating the Dec. 12 incident that took place between her and Lohan as a possible misdemeanor offense.
Dad Michael Lohan told E! News today that the staffer and his daughter hadn't been getting along for some time. On the day in question, Michael said, Lindsay was 10 minutes late returning from a hair appointment and the woman grabbed her arm and told her she had to take a urine test.
"Lindsay just brushed her off," he said, adding that that is what Lindsay told him.
Holland, who had been employed as a chemical dependency technician, told TMZ in a paid video interview that Lindsay and two other girls had snuck out of the facility to go "drinking," then tried to "jump over the back wall" to get back in.
When she requested that all three take breathalyzer tests, Holland continued, Lindsay swore at her and pushed her, then went off and dialed 911.
Holland picked up another house phone to speak with the dispatcher, she said, and that's when Lohan grabbed her hand to try and get at the phone, leaving her with a sprain that ultimately forced her to go on worker's compensation leave.
"She had alcohol on her breath," Holland said. "I did not touch the woman. I am not willing to risk my job over any patient."
Lohan's attorney, Shawn Chapman Holley, previously said in a statement:
"We are declining to comment on the underlying facts surrounding this incident, as we await the completion of the police investigation. It should be noted, however, that it was Ms. Lohan who called 911 to request police assistance at the time this incident occurred."
(Originally published Dec. 21, 2010, at 6:42: p.m. PT)
REHAB REPORT: Pretty Wild's Alexis Neiers avoids prison for heroin slip-up