Bristol Palin Slams Kathy Griffin's Precious Fat Joke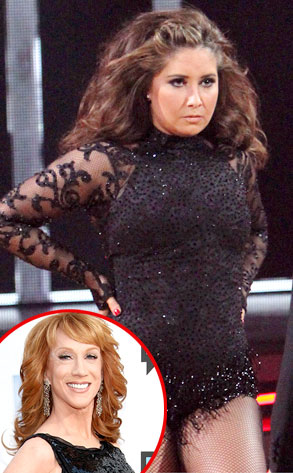 Adam Larkey/ABC; Alberto E. Rodriguez/Getty Images
Just a word of advice, famous people. If you keep talking about Bristol Palin, she's going to keep responding.
This time it's Kathy Griffin who has provoked the Dancing With the Stars finalist's ire with a dig at Bristol's weight in which she called her the "white Precious" during the VH1 Divas' Salute the Troops special.
So, did Bristol kick Kathy all the way to the F-list for that?
READ: Chelsea Handler drops a C-bomb on Angelina Jolie
She actually didn't have to, because the audience did it for her, responding to Kathy's dig—"She's the only contestant in the history of the show to actually gain weight. No, come on, come on. She gained like 30 pounds a week, I swear to God, it was fantastic. She's like the white Precious!"—with a chorus of boos.
So the comedian attacked a conservative teenage mom at an event honoring both women and the U.S. military? Way to know her audience.
"The audience's reaction to this 'comedian' spoke volumes, and the decent people I know would probably have booed her, too," Bristol said in a statement to Fox News' Pop Tarts blog. "I hope people didn't have to pay money to hear her negativity and criticisms."
VH1 didn't comment, but Fox heard that producers considered editing Kathy's crack out of the show, which taped Friday and aired Sunday, but decided a little on-camera controversy wouldn't hurt...the ratings.
(Originally published Dec. 6, 2010, at 4:15 p.m. PT)
PHOTOS: Let's move on to people we aren't tired of, like the Top 10 Fresh Faces of 2010!