EXCLUSIVE: Read it here first...
EXCLUSIVE!
Jennifer Hudson: Call Me, Barack!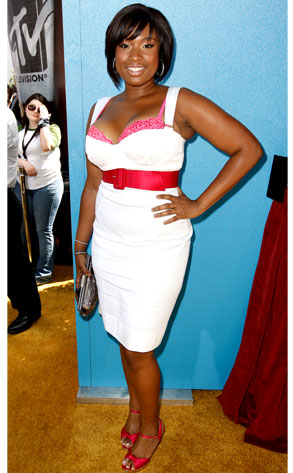 AP Photo/Matt Sayles
Attention, Barack Obama!
Jennifer Hudson would love to hear from you. The Oscar-winning actress and singer from Chicago (yes, she still lives there) says she's ready to do what she can to get her senator elected president.
"I sang for Obama after I did Idol," Hudson says. "I'm so proud and excited for him. I haven't gotten a call from them yet, but he does have my support."
I was on the phone with Hudson, 26, the day after she shot her first music video for "Spotlight," her just-released single from her upcoming debut album. She's a bit sleepy because the shoot lasted nearly 24 hours.
"I guess God gives me the strength," Hudson said of her almost nonstop schedule since becoming the breakout star of Dreamgirls two years ago. "In this field you just sleep when you can."
Well, life isn't slowing down anytime soon. Ms. Hudson still has to finish the album, which is set to be released in September. "I still have a few more songs to go before it's complete, but I think we're kind of halfway there," she said.
Hudson is anxious to hit the road with her music. "I want to tour," she exclaimed. "I want to get out there. I'm looking forward to that."
Of course, music isn't the only thing Hudson is working on. She appears in this summer's box-office hit Sex and the City, is part of the star-studded ensemble in the upcoming Winged Creatures, and she most recently wrapped The Secret Life of Bees opposite Queen Latifah, Alicia Keys and Dakota Fanning.
"Queen Latifah is like a big sister to me," Hudson said of the friendship that developed on the North Carolina set. "I honestly feel that. I just saw her and I feel like, God, I'm with my big sister and I got to make sure I'm on my best behavior."
Although there's no official word on a Sex and the City sequel, that doesn't mean Hudson isn't thinking about it. She would hope her character, Carrie Bradshaw's assistant, Louise, would make a return. "I think she'd be married with a family," Hudson says. "And she'd probably move next door to Ms. Bradshaw."
One thing you won't find her doing in an SATC follow-up is one of its signature sex scenes. "I only have one answer for that question," she says when asked if she'd ever bare as much as Cynthia Nixon and Kim Cattrall did in the flick, "and that is, 'Nope!'"
But that doesn't mean she's not proud of her body. In fact, she's not bothered by the media attention that's been given to her ample bosom, like the story in the New York Post that was headlined "Put 'Em Away Jennifer Hudson!"
"Hey, mine are real," Hudson declared. "People pay to get them like this and then let them hang out. They pay for what I got naturally. Why can't I flaunt the real ones? They're the real deal."