So True? So False? Did Kourtney and Scott Elope?!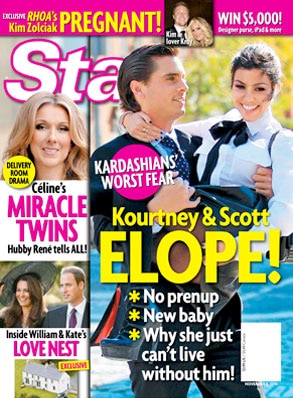 Star Magazine

When it comes to the Kardashians, anything is possible.
So when the cover of Star magazine trumpets that Kourtney Kardashian is planning to elope with her far from beloved baby daddy, Scott Disick (hey, he's getting better), it's not the sort of thing you may immediately dismiss.
Particularly when it comes in the wake of Kourtney tweeting about a "big announcement coming next week." So what's the truth in this tabloid rumor? Brace yourselves. It's…
So false!
MORE: Is Khloé ready for motherhood?
While neither Kourtney nor Scott (nor any member of the extended Kardashian-Jenner clan) has seen fit to confirm or deny the rumor straight out, a source close to the family tells E! News that there is absolutely no truth to the report.
Though we wouldn't mind seeing the look on Kris Jenner's face should that not have been the case.
Earlier today, Kourtney took to her official blog and while she didn't discuss the marriage murmurings, she did post a series of candid photos of herself and her supposed hubby-to-be in New York City.
Noticeably absent from the shots? Any sign of a ring finger bauble. And we know not even Scott would be so gauche as to pop the question without a little jewelry accompaniment.
Oh, well. The tabloids can't be right all the time. Though once in a while would be nice.
MORE: Watch the all-new hourlong E! News bust more celeb rumors every night at 7 p.m. and 11:30 p.m.