EXCLUSIVE: Read it here first...
Kate Hudson Was Born a Boy?!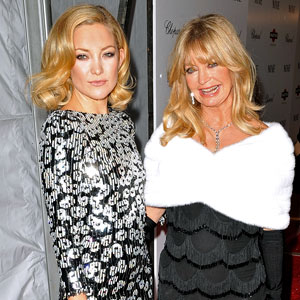 James Devaney/Getty Images
If Goldie Hawn isn't careful, she's gonna start one of those urban myths about her daughter Kate Hudson being born with boy parts.
Here's why…
At last night's Elle Women in Hollywood dinner, Hawn recalled the day she gave birth to Kate in 1979. "I had a C-section," the Oscar-winning comic icon said. "Am I getting too intimate? I was lying there and they were slicing and dicing…[and] all of a sudden, out she comes and they say, 'It's a boy!' And I was lying there going, 'No, it's a girl!'
"By the way," she continued, "I didn't know what she was. I just felt she was a girl…I knew it was a girl and I looked and them and they said, 'Oh, no...It's a girl!' And I thought what part of her anatomy are you looking at to make a mistake like that?"
If that wasn't enough to make Hudson blush, Hawn recalled her baby girl's first meal. "She clamped onto my breast like nobody's business," Hawn said. "She was a voracious eater…She still likes to eat."
And by the way, Hawn had planned on naming the baby Rebecca but changed her mind when she was about eight months' pregnant driving on L.A.'s 405 Freeway. "I was going to name her Rebecca because it was biblical and romantic and genteel and then all of a sudden, she punched me so hard in my you know where—truly where the sun doesn't shine. I said, 'Oh, my God! This is a Kate. This isn't a Rebecca. This is a Kate!' "
FOLLOW: @marcmalkin on Twitter and Facebook!