UPDATE!
Courteney Cox and David Arquette Split Up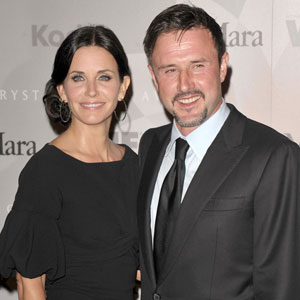 John Shearer/WireImage.com
Courteney Cox has time-shares these days in both Cougar Town and Splitsville.
The actress and David Arquette have separated after 11 years of marriage, E! News confirmed Monday. They have one daughter, 6-year-old Coco.
"We have agreed to a trial separation that dates back for some time," the duo said in a statement. "The reason for this separation is to better understand ourselves and the qualities we need in a partner and for our marriage. We remain best friends and responsible parents to our daughter and we still love each other deeply. As we go though this process we are determined to use kindness and understanding to get through this together."
"We are comfortable with the boundaries that we have established for each other during this separation and we hope that our friends, family, fans and the media also show us respect, dignity, understanding and love at this time as well."
Cox, who has never been shy about saying relationships definitely require work to make them run, appeared on Jimmy Kimmel LIve on Sept. 22 and gave a shout-out to her hubby's new theater project at the Roosevelt Hotel, David Arquette Presents Beacher's Madhouse.
"You seem like you're just barely able to tolerate David's antics in general," Kimmel joked, or so he thought.
"I'm just so on the verge," Cox said, laughing. "No, he's great." "He is a lot of fun," Kimmel said. "He's so much fun," she added.
Arquette, meanwhile, was seen strolling around last month with a bare ring finger.
But he and the missus spent plenty of time together over the summer, shooting an odd anti-domestic violence PSA and costarring in Scream 4—which may or may not have played a role in their split.
"It's weird," Arquette told E! News in August. "All these kids are turning 21 on the set—or not even that. I've gone out a few times with them, and Courteney's like, 'David, you're not a kid anymore.' I'm like, 'I know, but I still feel like one.' "
And Arquette told Howard Stern around that time that his wild ways were something he and his wife discussed in marriage counseling.
"Courteney recently said to me, 'I don't want to be your mother any more,'" he said. "On our 11th anniversary."
Ironically, this development comes on the heels of news that Cox's other partner in marriage counseling is getting a divorce.
The 46-year-old star revealed in June at the Crystal + Lucy Awards—the last time she was photographed out and about with Arquette—that she, David and gal-pal Laura Dern sometimes made it a therapy threesome.
"Sometimes couples, but more likely, just us," she said, referring to Dern, whose husband Ben Harper filed for divorce recently.
(Originally published Oct. 11, 2010, at 3:09 p.m. PT)
RELATED: Jennifer Aniston is Vanity Fair's No. 1 single gal!