It's more fun than doing it alone
Dancing With the Stars Cast Revealed in Full, Includes the Hoff, a Palin, a Quarterback and The Situation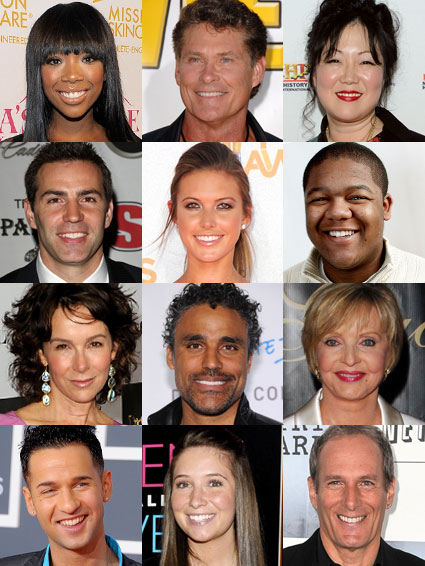 We hate to say we told ya so...
Between WWK and the Awful Truth, E! News pretty much had this one covered, having already revealed that Bristol Palin, Jennifer Grey, Mike "The Situation" Sorrentino and David Hasselhoff, among others, were onboard for the 11th season of Dancing With the Stars, premiering Sept. 20.
And so they are.
But ABC had a few tricks stuffed way, way up its sleeve, so there was a name you hadn't yet heard announced Monday during Bachelor Pad...
And it's none other than That's So Raven star Kyle Massey! Whoo-hoo!
Massey, who's only a wee 19, steps into dancing shoes once worn by Cody Lindley, Monique Coleman and other relative youngsters who generally count Disney Channel viewers among their biggest fans.
Meanwhile, Troy Aikman was just a red herring.
Retired NFL quarterback Kurt Warner, who won a Super Bowl with the St. Louis Rams in 2000 and, on the brink of retirement, had a career resurgence with the Arizona Cardinals in 2008, is the one who's going to be working on a different kind of quickstep.
As we previously reported, joining Kurt and Kyle are:
• Michael Bolton: How were we supposed to live without Michael B. this season?!
• Brandy: She assumes the role of probably already-pretty-adept-at-dancing pop singer (see: Mýa, Nicole Scherzinger, Mel B).
• Margaret Cho: The job of coming up with the most charming self-deprecating comments in order to last at least a few weeks on the show goes to her.
• Jennifer Grey: Left in the corner when negotiations didn't come together in time for last season, the actress is returning to center stage, 23 years after setting adolescent hearts aflutter in Dirty Dancing as the girl we all wanted to be.
• Rick Fox: Vanessa Williams' ex-hubby and Eliza Dushku's current roomie was slick and talented on the parquet while winning three NBA championships with the Lakers. But all that tallness tends to be a liability on this show.
• David Hasselhoff: Damn straight this is going to be harder than sitting through your Comedy Central roast! Have you heard the kind of stuff that comes out of Bruno Tonioli's mouth?!
• Florence Henderson: The all-star TV mom steps in as the requisite contestant-of-a-certain-age. (The erstwhile Mrs. Brady is 76!)
• Bristol Palin: The former first daughter of Alaska is hoping her famous mom makes it into the audience once in a while. "She's excited for me," Bristol says.
• Audrina Patridge: The Hills star will provide some eye candy, sure. But though we know she can talk the talk (and talk, and talk...), can she walk the walk?
• Mike "The Situation" Sorrentino: Sure, maybe Sarah Palin's gonna show up. But what about Snooki and JWoww?!
Yup, E! News was 10-for-12 this season.
As for who isn't going to Sambatown this year...
Kirstie Alley's name made the rounds, but perhaps the constant exercise wouldn't jive with her ongoing woe-is-my-weight drama.
World Cup standout Landon Donovan also arose as a possible, but really, when you take a step back, that looks as absurd as it sounds.
And for the first time in a couple of seasons, there will be no ABC-tastic Bachelor synergy, as Ali Fedotowsky regretfully told us last night at Entertainment Tonight's post-Emmy bash.
"It's not going to happen!" said the betrothed former Bachelorette, fiancé Roberto Martinez by her side. "Not goin' to happen...but we'll be watching."
Ali hopes to at least be in the audience this season, as she was when it was announced that she would be the next Bachelorette.
"I had so much fun," she said. "I was dancing in my seat and I said, 'I need to be a part of this!'"
"Maybe next season!" Roberto added. "Maybe next season," Ali agreed.
(Originally published Aug. 30, 2010, at 7:23 p.m. PT)
________
OK, Dancing With the Stars has got to win the Emmy—like these guys did—after this season!