EXCLUSIVE!
Paris' Parents "Flipping Out" as She Floats Not-My-Cocaine Defense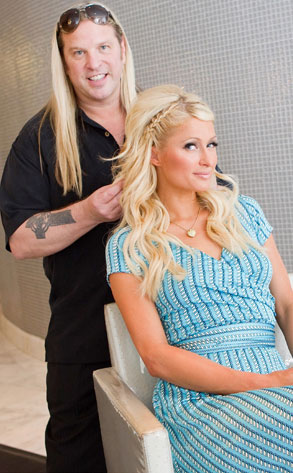 Eric Jamison/WireImage.com
UPDATE: In her first post-arrest statement, Hilton just tweeted: "I'm so thankful to all my fans for all the love and support you are giving me. Thank you all. Love you so much. Love Paris xoxo"
________
His boss might have given Cy Waits the boot—now Paris Hilton's parents are queuing up for their turn.
Despite once blessing their daughter's latest coupling, sources are now saying that Rick and Kathy Hilton don't like her new beau and are "flipping out." Paris is back in to L.A. to be with her family.
This, of course, comes after Friday night's Vegas bust that landed the new lovebirds in the slammer on drug-related charges. What parent wouldn't love this guy?!
Meanwhile, the man responsible for Paris' tousled tresses in her mug shot, is shedding light on her side of the story.
Las Vegas-based colorist Michael Boychuck tells E! News exclusively that Paris denies the cocaine was hers.
"She's upset because it wasn't her substance," says Boychuck, who has been her colorist since she was 12 years old. "If you know Paris, she would get up and hug someone in a minute and leave her purse around."
He says he texted with the hotel heiress on Saturday and she suggested that the coke was not hers.
He also says Paris was "totally" sober when he did her hair between 6 and 8 p.m. on Friday night before her arrest. Paris went to Color: A Salon by Michael Boychuck at Caesar's Palace for the $250 coloring job.
"She was drinking green tea that night in the salon. She didn't have wine or anything," Boychuck says, adding that her boyfriend was not with her at the time. "She was in a great mood."
We're guessing that didn't last long.
Check out other celebs in our Mug-Shot Mania gallery.