BREAKING!
New Season of DWTS Is All About "The Situation"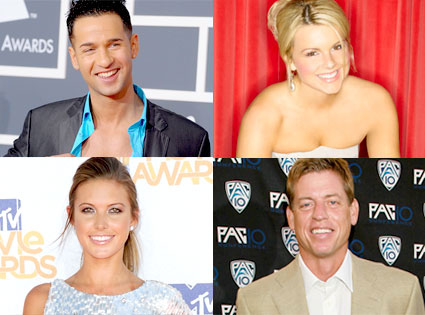 Jason Merritt/Getty Images; ABC/BOB D'AMICO; Jason Merritt/Getty Images; David Livingston/Getty Images
The latest cast of Dancing With the Stars won't be announced until next Monday (after Bachelor Pad), but that doesn't mean we haven't already heard rumors about who the new dancing wrecks will be.
Folks, it's definitely sounding like we have a Situation on our hands...
Sources tell us that Mike "The Situation" Sorrentino is a "done deal" and is going to be on ABC's hit show. And, of all the new castmembers, he's the star who the network is most thrilled about nabbing.
"He's going to be the Kate Gosselin of the new season," dishes our insider. "Minus the fact that we think people on set will probably like him."
We told you mucho times that Kate was not loved by the Dancing cast or crew, yet America couldn't get enough of her two-stepping around like an idiot.
Behind-the-scenes insiders predict that The Sitch is going to be the most-talked-about guy on Season 11 ("All eyes will be on Mike," says our source) and that the Jersey Shore star will be the biggest crowd-pleaser of them all (expect lots of ab revelations).
As for his dancing skills?
"We'll have to see, but we can't wait to see what he pulls off. He's going to be hilarious."
Well, The Situation's chest is almost as big as that of our all-time Dancing fave Pamela Anderson, so we're pretty excited, too. As for other competitors, we hear Bachelorette Ali Fedotowsky and her fiancé, Roberto Martinez, also may be on the show, but that's not finalized yet.
Tony Dovolani would definitely not be too happy if one or both of them join. Last month at the ESPY Awards, when we asked him who should be cast, he told us they've had enough Bachelor stars on the show.
The contestants are supprosed to keep the news super hush-hush, but someone forgot to tell former Dallas Cowboys star Troy Aikman about that.
A few weeks ago he blabbed to TMZ that he would be on the new season, but he quickly retracted that via Twitter. Our insider says that despite the boneheaded move, he will "most likely" still be on the new season unless he's ousted by another former pro footballer.
"We couldn't believe it when we saw that on the blogs," says our source. "What an idiot."
Audrina Patridge is also locked in, according to our insider.
ABC never comments on future casting rumors.
Even though we'd die for Snooki to dance her poof off, we're loving that The Situation will be waltzing his clothes off. Since he's the hot commodity, we say pair him with Karina Smirnoff—though we hear he may be with Chelsie Hightower.
So what do you think about these possible dancing candidates? Aside from The Sitch, what we're hearing so far cast-wise is slightly boresville, so let's hope the other ones bring the drama.
Follow Ted and Taryn on Twitter!
_______
Check out a photo flashback of the stars of DWTS's tenth season!