Laurence Fishburne Should Be Proud of XXX-Rated Daughter!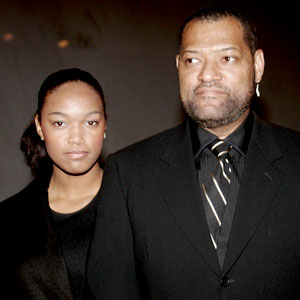 Nancy Ostertag/Getty Images
If someone told you your child would grow up to be self-reliant, ambitious and gainfully employed, you'd be pretty pleased, right? Right.
So stop feeling sorry for Laurence Fishburne.

In many ways, the actor's eldest daughter is a parent's dream. Montana Fishburne is self-reliant. She is ambitious. And, as you may have heard, she is gainfully employed.
Yes, porn—perfectly legal, and perfectly legitimate porn—counts.
So, why shouldn't the elder Fishburne be proud of the younger Fishburne? How many times have audiences complained about kids becoming famous for nothing? How many times have grownups complained about kids doing nothing?
Like it or not—and we understand if Laurence Fishburne does not—Montana Fishburne has become famous for doing something. And she has done it on her own, or as much on her own as someone with a Hollywood brand name can.

More than that, Montana Fishburne is everything the New York Times says new-fangled young people are not: willing, ready and able to make her way in the adult world. OK, so, yes, it's in the adult-film world, but still… It's not like she's doing something crazy, like, lying about her age so she can hang with Marlon Brando in the jungles of Manilla while her peers are still in junior high—you know, like Laurence Fishburne did on Apocalypse Now.
The teenaged Laurence Fishburne was in a hurry to get on with his life; the teenaged Montana Fishburne is, too. Can you say it's more admirable to get your ya-yas out in a Coppola epic than a Vivid Video quickie? Sure, but that doesn't make it so. The supposed high road and the supposed low road are both roads.

Look, should Laurence Fishburne be proud his daughter is facing assault charges? No. But could he take pride in his daughter for taking the wheel, as she says she has, and driving her own life?

Why not?
Besides, no one said it's supposed to fun for the parent when the kid gets the license.

________
Rewind E! News' exclusive sitdown with Montana Fishburne right here.