More Bad Decisions in Housewife History: Bankrupt Teresa Giudice Goes on $60,000 Spree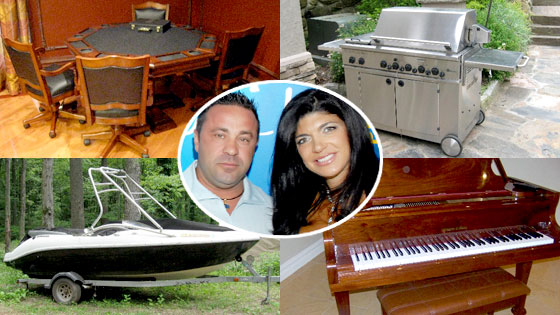 www.ajwillnerauctions.com; Michael N. Todaro/Getty Images
What's a reality star on the brink of bankruptcy who almost lost her home and whose most prized possessions are about to hit the auction block to do?
If you said "get a job," go back to Famewhoring 101. If you said "go on an ill-advised $60,000 shopping spree," your name is probably Teresa Giudice.
Sounds like someone just got unpretty enough to work.
It was revealed in a Newark, N.J., court yesterday that the Real Housewife of New Jersey spent the exorbitant amount—$40,000 alone on furniture—after she and her husband Joe had filed for bankruptcy.
The couple owes roughly $10.85 million to creditors.
But while the Giudices may not have seen anything wrong with bill, their lawyer, at least, seemed embarrassed on their behalf, admitting that the spree, which came to light when receipts from the conspicuous consumption were documented in court, presented "a dilemma" in their case.
Bravo's realidweebs were appearing in court to try and postpone or ideally stop the auctioning off of their TV-featured home, set for Aug. 22.
Had evidence that the couple not spent $8,800 on curtains and some $45,000 for wall hangings, mirrors, frames, urns, chairs and tables just days after filing for bankruptcy, it would have gone a little smoother.
Judge Morris Stern rejected their request to stop it altogether, but granted them a bit of a reprieve while a reevaluation of their possessions' worth takes place. In all likelihood, the prices may be escalated due to the Giudice's "celebrity" status.
We assume the court is using that term very loosely. The auction is now set to take place Oct. 3.
________
Teresa may not be the only New Jersey housewife hurting for cash. Get the lastest on Danielle Staub's future with the show!