EXCLUSIVE: Read it here first...
Rejoice! Danielle Staub Gets the Boot From Jersey Housewives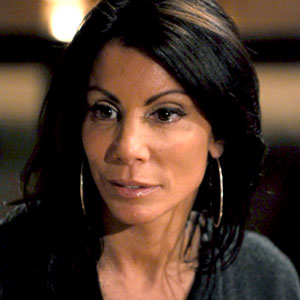 Andrei Jackamets/Bravo
It's no secret that we were big fans of the Real Housewives of New Jersey right out of the Garden State gate. But, like many, they lost us for much of season two because of all the attention given to Danielle Staub and her crazy behavior.
So we are happy to report Bravo is saying goodbye to the show's resident prostitution whore Scores-loving vixen.
"If there is a season three, Danielle will not be back," a source says.
Danielle recently told celebrity tabloid Life & Style, which first reported she got the boot, that she was in talks for a spinoff.
Not so fast, Ms. Staub.
"She is not getting her own show," our source said. "Danielle must practice The Secret because she believes if she says something and puts it out there that it will become true. There's no way it's going to happen."
As for the troublemaker herself? "Actually, I'm not even thinking about season three right now as I am considering many incredible options that have been presented to me," said Staub via her rep. "Don't worry next year, I'll still be the one you either love to hate or hate to love"
A rep for Bravo declined to comment on Danielle's future with the show: "We haven't announced anything regarding a third season." Danielle, however, was a part of an explosive reunion, which will air in two parts on Aug. 30 and Sept. 6.
With Danielle's departure, does that mean Dina will return? The feisty Manzo sister left the show because she had enough of Danielle's drama.
Come on back, Dina. We've missed you.
Follow @marcmalkin on Twitter.
________
Remember when Danielle got all girl-on-girl? Check her out in our Bi-Hollywood photo gallery.