UPDATE!
Judge to Lindsay Lohan: Just Say No to Drugs, Booze!
UPDATE: Lindsay Lohan has left the building—with a new accessory. Court spokesman Alan Parachini confirms that the trouble-plagued starlet was fitted with her alcohol-monitoring SCRAM device at the courthouse, and will be required to wear it at least until her next hearing.
"The SCRAM bracelet has just been installed," he said. "That's what the delay was. When she left, it was on her."
________
Um, better late than never, right? Not for LiLo.
After the circus caused by her passport-losing, court-truant ways last week, the actress-party girl finally turned up in a Beverly Hills courtroom this morning, where the terms of her bail were formalized.
Los Angeles Superior Court Judge Marsha Revel, who postponed her vacation in order to dole out the punishment, wasn't in the mood to be lenient, making sure there was no wiggle room.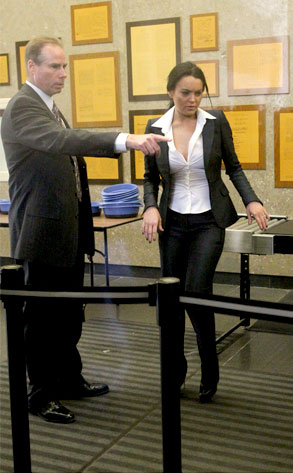 Breeden/Jones/PacificCoastNews.com
After showing up about 10 minutes late to the hearing (not the most auspicious start, though likely due to the judge not allowing her to arrive through the underground entrance) Lohan was, as expected, formally ordered to refrain from drugs and booze, ordered to be fitted with an ankle-accessorizing SCRAM device and ordered to undergo random drug testing at a very minimum of once per week.
The trouble-plagued starlet, who remains free on $100,000 bail, must also attend all of her scheduled alcohol-education courses.
"I want the court to know that Ms. Lohan intends to comply," said attorney Shawn Chapman Holley after a brief conference with her client.
But not without a fight.
In addition to requesting—perhaps in hopes of getting some extra credit—that Lohan be allowed to attend daily alcohol-ed classes rather than just weekly, Holley attempted to weasel her client out of the need for the SCRAM device. Her excuses? They were no stolen-passport, but not too shabby nonetheless:
"Ms. Lohan has a number of upcoming photo shoots as well as filming a movie in Texas…the SCRAM bracelet would interfere," she said.
As an alternate suggestion, she offered up to the court the possibility that Lohan instead undergo random drug and alcohol testing.
No dice.
Revel said that not only would Lohan not be allowed to escape the firm grasp of the SCRAM device, but she would have to submit to the drug testing in Los Angeles—meaning she would either have to postpone or bow out of her Texas gig.
"She needs to submit to random drug testing here, not in Texas," Revel said. "I'm afraid she's going to have to delay that for now."
If she was in Texas and was called to L.A. to undergo testing, "it's not random," Revel explained. "It's going to be drug testing here."
Courtroom chatter briefly breaked after Revel asked if Lohan accepted the terms of her bail. If they were to formally object, Revel would go on record with her justification of the harshness—a record that she said would take roughly 30 minutes to get through. That's a lot of skeletons.
Wisely, after conferencing with Holley, she agreed to the terms.
Now, the 23-year-old has 24 hours to get fitted with the SCRAM device and random drug testing and compliance with her courses will begin immediately. Revel did not read out where Lohan would be getting fitted as she wanted to give the star "the opportunity to go there without a following."
Best of luck with that.
As for her drug testing, Revel made clear there would be no excuses.
"Failure to show for random drug testing is the same as a dirty test to the court," she said.
The only acceptable excuse for missing an alcohol class, meanwhile, is if Lohan has a random drug test scheduled for that time, as the testing supersedes her courses.
Some other business was attended to during the brief hearing, including the prosecutors' request for some good-faith evidence that Lohan had in fact intended on making last week's court date. Holley provided it, showing proof that she had an airline ticket booked for last Wednesday as well as a record of the appointment she booked with the U.S. Embassy.
As for Lohan, she spoke up just once during the hearing, when asked by the judge if she understood the conditions of her bail.
"Yes, your honor," Lohan said.
She's free on $100,000 bail pending a July 6 probation-violation hearing—if she's found in violation, Lohan could face jail time.
(Originally published May 24, 2010, at 9:17 a.m. PT)
________
Check out Lindsay Lohan in better days.