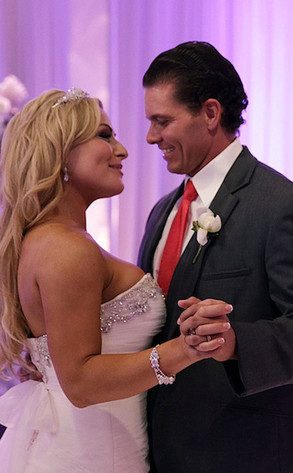 WWE
Natalie Neidhart, better known as WWE Diva Natalya, is on cloud nine. After her recent wedding to fellow WWE Superstar Tyson Kidd (TJ Wilson), she sounded elated and described her special day as "out of this world" and "a dream wedding."
In an exclusive interview with E!, Natalya dished on her crazy bachelorette party in Vegas, her wedding day with TJ, and what we can expect to see on the upcoming show, Total Divas.
Most brides like to be hands-on when it comes to their big day and Natayla was definitely one of them. "I had a hand in everything. From the color scheme, the food, the drinks, the table setting. What kind of flowers I wanted. The dress. I picked everything."