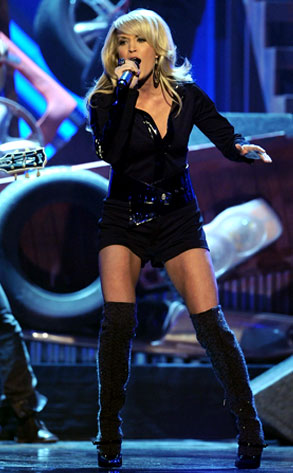 Michael Caulfield/WireImage.com
Least Expected Hot Couple: In keeping with its up-to-the-minute attention to the world of pop music, the Grammys kicked off the show with an appearance by Frank Sinatra. The now dead Chairman of the Board and the very much alive Alicia Keys duetted, and to be frank, it sounded delightful—even if those lyrics promoting smoking will probably earn the duet a "parental advisory" sticker.
Most Lingering Question: How much do you have to pay a deceased person for a personal appearance?
Best Autoerotica: Country singer Carrie Underpants—er, 'wood—came out in short-shorts to belt out "Before He Cheats," her scorching tune about a scorned woman's search for inner peace through the utter destruction of one man's car.