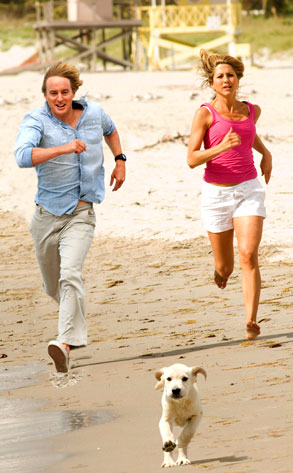 Barry Wetcher/ Fox
Yes, there was room at the holiday box office for both Jennifer Aniston and Brad Pitt. But for those keeping score, it was the ex-Mrs. Pitt who took up a good deal more of the room.
Aniston and Owen Wilson's Marley & Me stayed strong after its record Christmas Day opening, taking in an estimated $37 million from Friday-Sunday, Exhibitor Relations said today.
Pitt's The Curious Case of Benjamin Button grossed $27.2 million during the same three days. In the rankings, it fell from second on Christmas Day to third for the weekend, but posted a bigger per-screen average than Adam Sandler's Bedtime Stories ($28.1 million Friday-Sunday).
Aniston, Pitt and Sandler represented just the start of the star parade. The holiday box office also boasted new films from Tom Cruise, Leonardo DiCaprio and Kate Winslet.
Drilling down into the numbers: