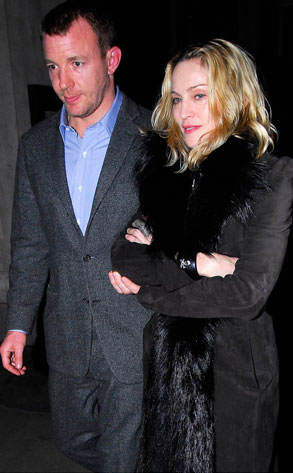 RAMEY PHOTO
Christmas came early for Guy Ritchie.
Madonna's longtime spokeswoman, Liz Rosenberg, confirms to E! News that the megastar and Ritchie have reached a financial settlement in their divorce, with her former bloke set to receive a windfall payout of at least $76 million.
Per Rosenberg, the figure also takes into account the value of the couple's massive English country estate and could ultimately top out at $92 million.
While the deal marks the conclusion of the duo's monetary haggling, no agreement has yet been reached over the custody of their two children together, 8-year-old Rocco and 3-year-old David.
Madonna filed for divorce from Ritchie in October, citing "unreasonable behavior" from her hubby. A British court granted them a preliminary decree of divorce last month.